Thousands showed up in Cadillac, MI on Jun 6 for the arrival of the Pere Marquette 1225 steam locomotive, which inspired the story The Polar Express. The Steam Railroading Institute maintains the train and runs "excursion" events on the existing tracks between Ann Arbor and Traverse City.
The Groundwork Center's effort to establish passenger rail on a set of state-owned tracks between Ann Arbor and Traverse City is gaining steam.
Since our big kick-off earlier this year, we've seen strong public support from our Patagonia and Moosejaw-sponsored crowdfunding contest, and we've been meeting with civic leaders and transportation officials all along the line on how to build a successful public campaign. We've also had meetings in Lansing to advance the necessary studies to run the trains.
What have we learned? Civic leaders in places like Mt. Pleasant, Owosso and Ann Arbor say their cities are ready for trains.
We're not surprised. We believe train service would have a major impact on mid-Michigan downtowns like Kingsley, Cadillac, Mt. Pleasant, Alma, and Owosso. In fact, a 2009 Grand Valley State University study found that Michigan cities with once-a-day train service boosted their downtown economies by $7 million to $45 million each year.
Mt. Pleasant (pop. 26,000) is one of the larger cities along the line and is anchored by Central Michigan University. City and university officials see the benefit of having another travel option for the thousands of students and parents shuffling in out of the city every semester, and for visitors throughout the year. The infrastructure is there. The city's historic downtown train station, home to Mountain Town Brewing, is already set up for train travel with a boarding platform, adequate lighting, and ample parking.
Our visit to Owosso opened our eyes to Michigan's railroad past. The Steam Railroading Institute based there houses and maintains the Pere Marquette 1225, the 1940s steam train that inspired the "Polar Express," and runs several "excursion" train events throughout the year. The institute also serves as a train museum. Civic leaders there told us that their residents want more options for getting around the state, including to Ann Arbor and northern Michigan.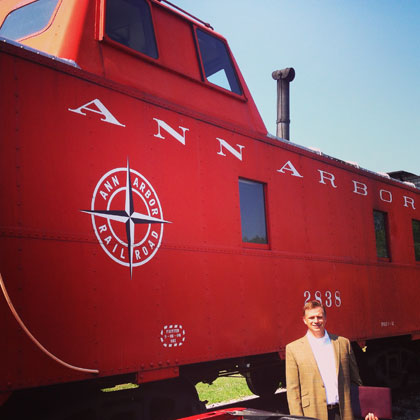 We also met with transportation agencies and city leaders in Ann Arbor, where consultants are conducting a major feasibility study on the Washtenaw-Livingston (WALLY) commuter rail line. That line uses the same state-owned tracks that extend all the way to Traverse City. The final study will bring the analysis and planning side of that project to its final stages.
So, what's next for us?
We're going on another tour asking communities and civic agencies to write letters of support for a feasibility study that we hope will begin next year. The feasibility study will explore costs, operating structures, funding sources, and ridership possibilities. It's the crucial first step for getting train service up-and-running.
How can you help?
Keep asking us good questions. We're putting together a question-and-answer sheet that we think will help people better understand the project. We expect to publish that on our project page soon.
And spread the word. Keep sharing the articles listed below, and continue to have those one-on-one conversations with your neighbors and elected officials.
Traverse City nonprofit is the engine pulling for passenger rail service from Ann Arbor (Crain's Detroit Business)
Connecting Traverse City to Ann Arbor via Train: Q&A with MLUI's Jim Bruckbauer (MyNorth)
Passenger train service between Ann Arbor and Traverse City being discussed (MLive)