ABOVE PHOTO: Watch the East Jordan student pitch video—remarkable!
"When you are starting a project, setting a goal, the higher you reach, the more you are bound to fail along the way. And not everyone believes in what you are trying to do. And it does take drive and perseverance to find those people who will believe in you till the end. What we're finding is more and more of those people who believe." 
 
That's Nathan Newman speaking, a senior at East Jordan Public Schools. He's talking about this important lesson from life because it relates to a bold project he's helping the middle-schoolers' Shoe Club with: planning, fundraising for, and installing a $70,000 solar array on the school's roof—by Earth Day, April 22, 2021! An online fundraiser starts today and runs thru midnight, Wednesday, March 17, 2021!
 
A project of that magnitude would be ambitious for even a large high school to take on, but East Jordan is small, with just 60 to 70 students per grade, and the club driving it is made up of middle schoolers—12- to 14-year-olds—with just a few high schoolers pitching in as advisers. "The project is the most ambitious student-driven project in the school's history," says Matt Hamilton, the history teacher who founded the Shoe Club back in 2008, and who still coaches the club today.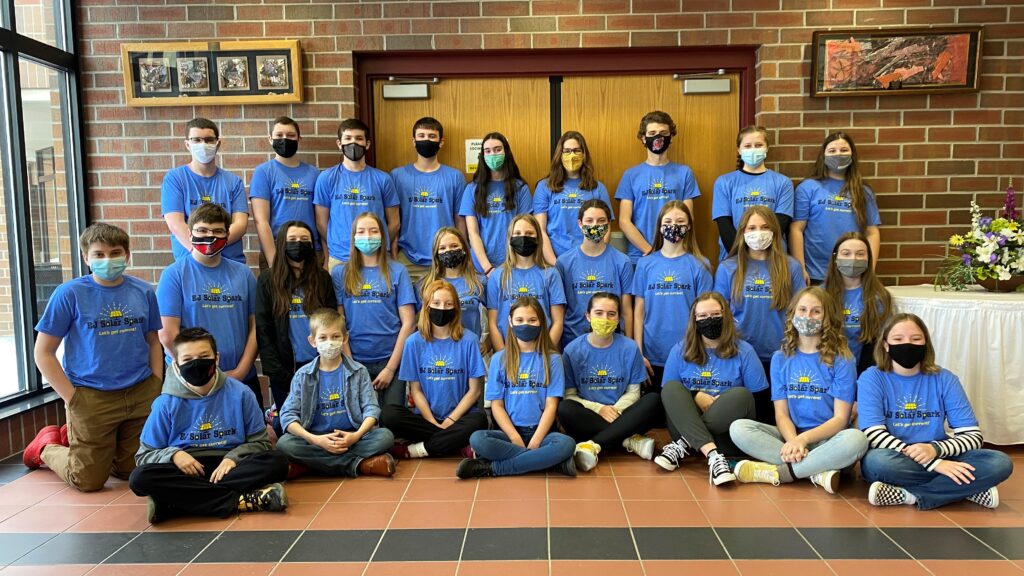 GOING BIG!
Help the Shoe Club at East Jordan Middle School. Give online!
To understand what gave rise to East Jordan's solar array project, you first have to understand what gave rise to the Shoe Club. Hamilton began the club after the unexpected deaths of two students within a month of each other. "It was a very dark and sad time," Hamilton says—a feeling no doubt amplified as the nation was staggered by the early months of the Great Recession.

To help the students find a way forward, the school brought in a motivational speaker to talk to an assembly of high school and middle school students. "He had a bag of shoes. And he'd pull out a pair of shoes and tell a story about the person who'd worn those shoes," Hamilton says. One story he recalls told of a girl who had a basketball scholarship, and her life seemed perfect to everybody who knew her, but unknown to all, she was cutting herself. Eventually she found hope and a solution. "The stories were all so powerful, I had to try so hard not to cry," Hamilton says.

The next day, every class wanted to talk about the shoes. And for the next couple of weeks, so many kids approached Hamilton. They all said the same thing. "Can I talk with you? Can I talk with you? Can I talk with you?" Before school, at lunch, after school, Hamilton heard kids share the stuff of their lives and seek connection. He thought of those shoes, of how they represented life's journey. He formed the Shoe Club, and each year the student members would dream big, set goals, work hard and give back. The core mission: teaching students to value themselves and to value others.

One year, the club sent a shoe up 100,000 feet in a weather balloon they built. Another year they partnered with the Michigan Department of Natural Resources and used an underwater ROV to explore a reef in Harbor Springs, and the DNR used in the study results in an official assessment. The club has also organized gatherings like dances and cooking classes. And they collect shoes from famous people who have had great journeys of their own—people who set goals and overcame obstacles.

This year, with the pandemic, the students needed a big project that didn't involve people gathering in person. Hamilton happened to see a video in which Glen Lake High School science teacher Karen Richard talked about a student-led solar array installation there, which Groundwork assisted with. Hamilton thought, Solar array, that's it!

As Hamilton began talking with the students and with the Groundwork team, the scope of the project kept growing. It began as a single solar panel on the roof, then became a 10KW project like Glen Lake's, then students doubled that goal to a 20KW project. Then they bumped it up again, to 30KW. "It goes to show if we dream big and set goals, what great things we can do," says 8th grader Chandler Haney. "We realized that we had to go big or go home. We decided to go really big."

The students quickly set about making the case for potential funders. They created a Powerpoint presentation, With help from student advisers like Nathan and Hamilton's 10th grade daughter, Mailey, they shot and edited a video. Every student had to train to present a piece of the Powerpoint, and the students would take turns making their case in front of different groups, like the Rotary Club and the school board. (Hamilton believes that presentation skills are an essential part of life.)

As the students thought through the array's benefits, the pillar strengths emerged:
Education: The students would find and help develop curriculum about clean energy and solar arrays, and the curriculum would be used in all grades.
Career training: The solar array would inspire interest in and knowledge of the clean energy technology that will create tens of thousands of jobs as it transforms America's power grid in these students' lifetimes.
School budget: The solar array will decrease the school's energy expense by approximately $4,400 each year.
Environment: The school's carbon footprint will shrink by 1.5 million pounds over the life of the array.
Community: The project will inspire others to more rapidly transition to clean energy.
The students have already raised $42,000 for the solar array and intend to raise the remainder by mid-March—with all eyes on that Earth Day installation goal. To make giving easy, the Shoe Club is using a GoFundMe crowdsourcing site. On March 9, the annual Bowl-A-Thon will happen, injecting a big boost to giving as the drive heads into the final week. With help from Hamilton's wife, Stacey, the students have also been applying for grants from local and statewide foundations and continuing to present at organization meetings..

And meanwhile, the middle-schoolers are moving ahead undaunted. "This is East Jordan. It's such a small town that people know each other and they trust each other," says 7th grader Rylan McVannel. "We support each other, and when word gets out there, there will be more questions and more presentations. And, no doubt about it, we will meet the goal."