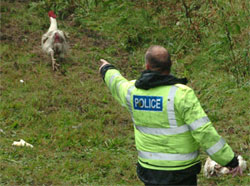 Like a number of much larger towns, Traverse City may soon legalize urban chickens. Photo credit Daily Mail
Chickens in the city? That is the question that the Traverse City planning commission is pondering, and it appears that many people are saying "yes."
As this Traverse City Record-Eagle article explains, the town may not have a choice in the matter, according to a written legal opinion by the City of Traverse City's attorney, Karrie Zeits. Ms. Zeits writes in her brief that the Michigan Right to Farm Act "prohibits cities from banning commercial farming, including the raising of chickens, and that a city resident need only sell one egg to qualify as commercial."
But that legalese is beside the point. At the heart of the matter for all of us here at the Michigan Land Use Institute is this: Raising chickens is a great way to both expand the local-food economy we so strongly support and better incorporate a protein-rich food into families' diets.
If it is perfectly legal to raise chickens in Ann Arbor, Seattle, Minneapolis, and Brooklyn, N.Y., we can probably find a way to do it in T.C.! Of course, we'll need some regulations-like no roosters, for example-to keep both people and chickens safe, clean, and hassle-free.
The planning commission said it would likely bring this issue back in July for further discussion. Stay tuned for your opportunity to be a part of it!
Brian Beauchamp is a policy specialist for the Michigan Land Use Institute. Reach him at [email protected].