Groundwork released a white paper Wednesday, May 30, on Mackinac Island about the Enbridge Line 5 pipeline titled "Canadian Profits, Michigan Risk." The Executive Summary of the white paper is copied below; a complete copy is available upon request to info@groundworkcenter.org.
Watch the press conference from Mackinac Island on Facebook Live.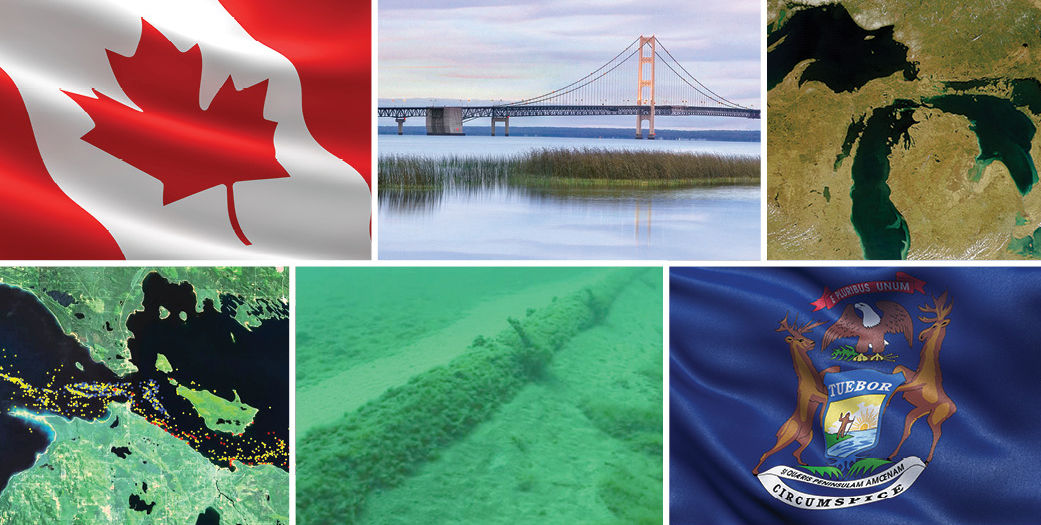 Executive Summary
When a ship's anchor hit and made three dents in Enbridge's Line 5 oil pipeline in the Straits of Mackinac on April 1, 2018, the repercussions rang out across Michigan and the Great Lakes, highlighting what pipeline opponents have long warned: the risk of Canadian oil spilling into the Straits is very real. The impacts would be devastating—oil-soaked beaches, blackened birds and dead fish, contaminated drinking water and an immediate halt in income for thousands of families and hundreds of businesses.
This white paper documents that the vast North American oil pipeline network has more than sufficient capacity to ensure that Michigan and Midwest refineries could operate with no economic disruption without Line 5. It also identifies viable solutions that should be implemented to secure necessary propane to Upper Peninsula residents, as well as to transport northern Lower Peninsula oil to southeastern markets.
Michigan is needlessly risking our Great Lakes for a pipeline that primarily benefits Canada. We call on Michigan's governor and attorney general to immediately decommission Line 5 and abandon efforts toward a tunnel for Canada. They should also direct state agencies to develop solutions that will ensure the residents of the U.P. receive affordable propane this winter, and ensure northern Michigan oil can reach southeast Michigan markets.
Awareness of the magnitude of risk from Line 5 has been growing throughout Michigan over the past five years. Canadian pipeline operator Enbridge has a history of inattention to pipeline safety and violations of the easement agreement that clearly justify the State of Michigan taking immediate action to protect our Great Lakes by revoking the easement that authorizes the pipeline to run along the Straits' bottomlands.
Surprisingly, the massive risk that Michigan is taking with our Great Lakes brings very little benefit to our state—but instead Line 5 has become a key shortcut for Enbridge to move oil from western Canadian oil fields to eastern Canadian refineries. Canadian pipeline companies have been unable to build a pipeline in their own country, making Line 5 vitally important to Canada's petrochemical industry. Meanwhile, Line 5 has become much less important to Michigan because use of the type of oil it carries, light crude, has declined dramatically at Michigan and Midwest refineries in recent years.
The Enbridge lobbying machine has successfully framed Line 5 as a benefit to Michigan that is worth the increasing risk, and recently convinced Michigan's governor and attorney general to support a massive tunnel under the globally rare and economically essential Straits of Mackinac to keep the oil flowing. Canada would continue to reap the benefits of this tunnel, while Michigan would continue to shoulder the risk to our Great Lakes. State leaders must decommission Line 5 as soon as possible and immediately secure solutions that put Michigan's needs first, ensure U.P. residents have access to an affordable propane supply, and that northern Michigan-drilled crude oil can reach their markets.