Above: Gary Jonas, co-owner of The Little Fleet, Traverse City.
For the third year in a row, Gary and Allison Jonas, owners of The Little Fleet, are offering up their mixology team to run the bar at Groundwork's Harvest Dinner. For those not familiar, The Little Fleet is a strikingly innovative foodtruck lot in downtown Traverse City. The Jonases paired complete infrastructure for all the foodtrucks—like onsite cold storage, commercial grade utilities—with a smartly comfortable bar that channels shades of Brooklyn. Equally important, the couple brought something ephemeral but essential: an understanding of the power of community. They saw they could create community and community would in turn create The Little Fleet. We checked in with Gary on a sunny September morning to discuss all that and how it all connects with Groundwork's Harvest Dinner, too.
The Little Fleet is bumping all season-long with all ages, all types of people. Kids are pushing little trucks around on the ground. Dogs are lying at owners' feet. Neighbors are settling next to neighbors on picnic tables. How intentional were you and Allison in creating that?
Sense of community is everything. You need the community to interact with you in positive ways. In a town this size, you cannot afford not to. That idea might get lost in a bigger city, might not matter quite as much. But here, community is the number one thing, for us anyway.
Your first restaurant ventures were in Brooklyn—first a restaurant (The Farm on Adderley), then a whiskey bar/flower shop (Sycamore Bar and Flowershop) a couple doors down. Was the notion of community at the foundation of those as well?
Early on, community was not really part of the idea. We just wanted to open a good restaurant, But then, over time, seeing we were developing regulars, people coming back day after day, that felt really good. And we saw that even in a city as big as New York, there was a sense of community in our little neighborhood of Ditmas Park, in Brooklyn. People were proud to be in that community and they appreciated that we were the first restaurant to open there in a long time, and that made us want to give back.
And eventually you came to see the community piece as essential…
If people start a business and they are only for the bottom line, that reward, the feeling of reward, will be lost over time. And I'd say even the financial reward will be lost after a certain amount of time. But I don't think you will fail if you are honest about being part of the community—the bottom line will work itself out.
Is local food part of your equation?
We try not to influence what the trucks do with their food. Some do local food and some don't. We do do local in the bar a lot. We have local beers, wine and liquor. And we have a rotating "farmers market cocktail" where we go to the farmers market and make a cocktail out of what's there that day. It's not a part of our business model, but it's a no-brainer for us to do this.
What about organic?
No, not really. Alice Waters came here last year and she made me promise to make all the food trucks go organic. But we haven't done that. (smiles)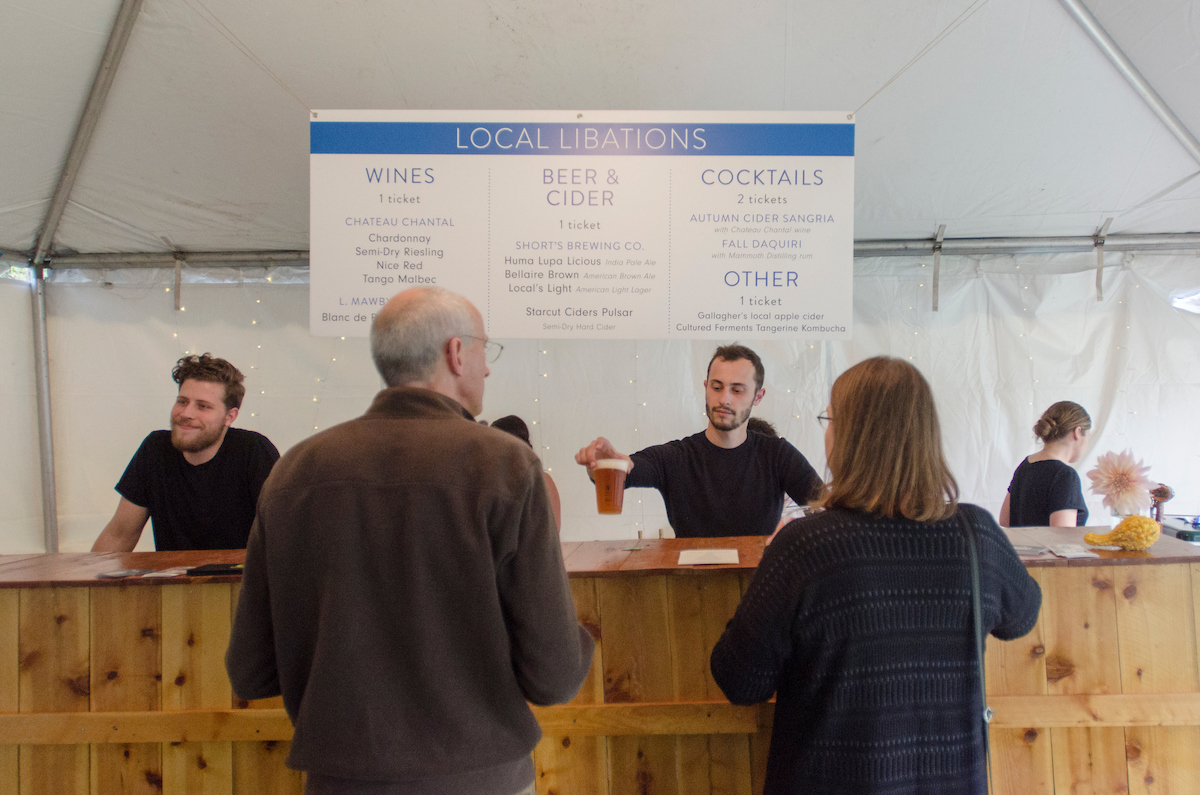 Above: Groundwork's Harvest Dinner bar, run by The Little Fleet
Share some thoughts about why you continue to play a big role in the Groundwork Harvest Dinner.
Well, we take a lot of pride in running that bar. We want it to be fun, innovative and add value. We set up the entire bar, donate the bartenders. We come up with three or four cocktails for the event, try to be creative about them. Last year we did a Harvest Sangria that had a bunch of local fruit and local wine. Pretty much everything is local at the bar, except the limes and the sugar.
And there's that community connection …
It's 100 percent community connection. That's 100 percent why we are active in Harvest. We could just write a check, but we want to be there in person, to show support. We not only believe strongly in what Groundwork is doing, it supports everything we are doing here at The Little Fleet in this community.
(*The dinner portion of Groundwork's Harvest Dinner, October 13, is sold out, but tickets are still available for the Thornetta Davis performance that follows!)
Below: Restaurateur Harlan "Pete" Peterson (left) with Gary Jonas at the 2017 Harvest Dinner bar.