Nationally renowned rail economist Alex Metcalf discusses the findings of his study assessing the economic feasibility of the Ann Arbor to Traverse City passenger rail, at the Traverse City library.
Q/A with Hans Voss, Executive Director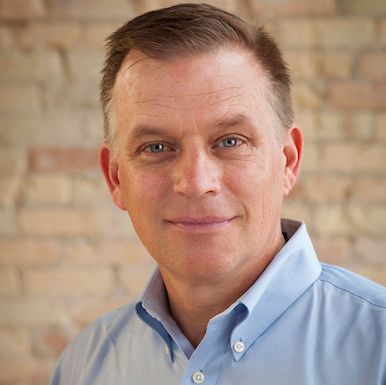 At the end of November, Groundwork executive director Hans Voss and nationally renowned rail economist Alex Metcalf completed a four-day journey to towns along the proposed Ann Arbor to Traverse City passenger rail route for a series of public forums and conversations with community leaders. Alex is president of Transportation Economics and Management Systems and is the lead researcher and author of the recently released passenger rail feasibility study. We checked in with Hans and asked him to reflect on how the rail proposal is being received by people in towns like Owosso, Mt. Pleasant, Alma, Cadillac, and Traverse City, and what's coming next
First, could you sketch out the purpose of the trip?
It was pretty straightforward. We wanted to report the results of the preliminary feasibility study to the communities along the rail corridor, a number of which have invested dollars to support the study. We also wanted to begin the next phase of the project, which is planning station locations in each town.
Watch Alex Metcalf (left) and Hans Voss passenger rail interview.
Planning station locations … that makes it sound very real. Were people surprised to learn that passenger rail was as real a possibility as that suggests?
That moment of transitioning from "big idea" to "this is happening" is occurring at the community level all along the corridor. The feasibility study says this is a viable project. It says, here's a timeline and next steps for moving forward. The credibility of the consultants is very strong and they in fact are saying this can work. The communities along the corridor are seeing this is moving from vision to reality, and that is exciting.
Describe the level of acceptance you found in the communities.
We were met with incredibly supportive energy the whole way along the route: Owosso, Mt. Pleasant, Alma, Cadillac, Traverse City. People want to know about the next step. They want to know what can they do to incorporate this opportunity into their economic development plans for their downtowns. There is overwhelmingly broad support and enthusiasm. That matters. That matters a lot. When you are moving forward with new ideas, that gut-level of support is powerful.
When there was skepticism, what was the focus of that?
We really did not find skepticism. We found questions. Strong questions. But they were more focused on the service and details, like what kind of trains, the cost to ride, the station locations, which showed me they were tuned into the next steps of implementation. They weren't saying things like, "You guys are crazy. This will never happen." They were saying "When can we make it happen!"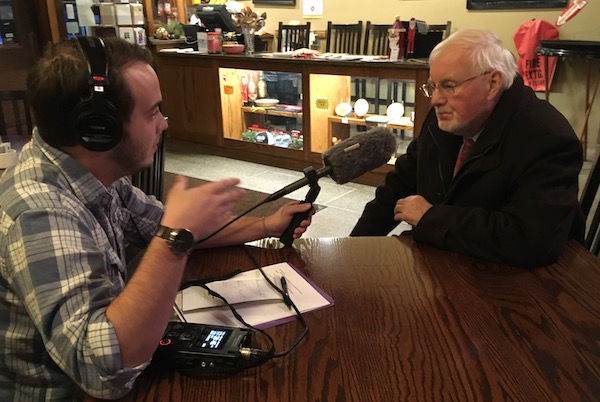 Media interest in the A2TC passenger rail is strong. Here Max Johnston (left), of Interlochen Public Radio, interviews Alex Metcalf at the Cadillac forum.
Did that positive reception surprise you?
Not really, but I will say that in 20 plus years of pushing new ideas in Michigan, it's rare to receive this kind of support. One important reason, I think, is that our consultants are top-notch. They are industry experts with a track record of success. Their experience on similar projects showed people that reviving passenger rail service from southeast Michigan to northern Michigan is possible. They helped launch the Bright Line in Florida, the DownEaster in Portland, Maine. Those are both operational and successful. They also have the respect of the state and federal transportation agencies. That is also very important. This experience and the credibility of the consulting team strengthened the legitimacy of the report's findings and helped people move beyond doubt to a vision of implementation and next steps.
The broad agreement we are receiving from local people and state officials is like nothing I've seen. We are not the only ones excited about this. This is a true grassroots movement. The fact that the state allocated $2 million to fix the tracks near Traverse City shows we have legislative leadership and backing as well, which is important.
Have you read the complete report? Click to download.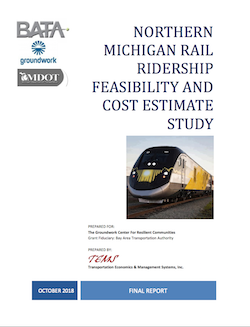 Can you step back a minute and remind us of why Groundwork is working on passenger rail in the first place?
Groundwork has a longstanding commitment to expanding transportation choices and supporting downtown development. That has been part of our core values since we founded the organization in 1995. We also embrace the public visioning process that happens at the community level, and that happened big time with the Grand Vision. This passenger rail idea came directly out of that. And we are inspired by what we see as the powerful economic benefit of connecting northwest and southeast Michigan. Connecting for commerce, to attract talent, to inspire downtown investment. There are practical, tangible benefits that will help grow the Michigan economy.
The Grand Vision process seemed as much about quality of life as things like commerce and zoning…
Yes, well quality of life is definitely part of the passenger rail idea. There is a sense of community on a train when you are traveling with other people. And it can be just plain fun. To think of people reading a good book, chatting with a friend, working on a laptop, taking a snooze, or perhaps just gazing out the window; this is what transportation can be. Relaxing. Enjoyable. And the more quality of life experiences Michigan can offer the more people will want to be here and the more competitive we will be economically. I think Michigan is well-positioned for the future and this passenger rail revival can be a big part of our state's future.
Let's wrap up with a look ahead …
Sure. In the summer of 2019, the upgrades to the tracks coming into Traverse City will be happening, and that is very important, tangible progress. We will be working with the communities along the route to plan station locations. And we will be planning special event trains for spring of 2020. People should also keep an eye out for release of the next study, which is a closer look at the economic development value of train stations in communities along the corridor.
MEDIA HIGHLIGHTS
IPR: Residents Weigh in on Passenger Rail Study
Record-Eagle: Economist: Strong Case for Passenger Rail Viability
TV9&10: Cadillac Hosts Community Forum on Passenger Rail