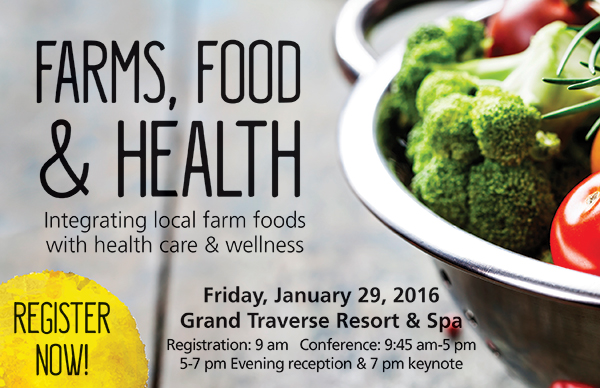 A conference slated for January 29, 2016 at the Grand Traverse Resort & Spa aims to build valuable connections between locally grown foods and wellness in schools, the healthcare sector, the workplace, and the broader community.
Participants will learn about innovative models, tools, and resources including wellness benefits that offer employees easy access to local food; how hospitals and schools can purchase and feature food from local farms; school classroom activities that meet teaching requirements and Marzano instructional strategies while helping kids love healthy food; making local food accessible and affordable; and integrating local food into the work of health practitioners.
Daphne Miller, nationally acclaimed author of the books Jungle Effect and Farmacology, will deliver the morning national keynote talk at the conference; and she also will speak again in the evening in a talk open to the general public.
More than two hundred people are expected to attend Farms, Food & Health, including health practitioners, employers, hospital and school food service directors, educators, poverty-reduction advocates and farmers.
"Farm to school in the cafeteria and in the classroom introduces students to healthy living, healthy habits, and healthy eating," said Cathy Meyer-Looze, curriculum and farm to school specialist at Traverse Bay Area Intermediate School District. "It also provides the kinds of dynamic, hands-on learning activities that meet teaching requirements and the challenge for powerful and engaging curriculum content in the Marzano instructional strategies used in our region. The Farms, Food & Health conference brings this all together."
Other speakers include Diana Dyer MS RD, an award-winning dietitian who will share her experiences as a registered dietitian, cancer survivor and farmer; Michael Miller, vice president and regional chief mission officer for Saint Joseph Mercy Health System, who will discuss how healthcare reform and population health trends are calling hospitals to reconsider their role and identity; and Mary Brower, of Bluestem Farm, who has teamed up with businesses, churches, an indie band, and a local health department to help those who lack funds to eat well.
The conference is co-hosted by Groundwork Center for Resilient Communities, Munson Healthcare, MSU Extension, Traverse Bay Area Intermediate School District, and the Northwest Michigan Food & Farming Network.
"In Michigan, only 13% of adults eat the daily amount of fruit that health experts recommend, and even fewer eat the recommended amount of vegetables," said Diane Conners, a Groundwork Center senior policy specialist and lead coordinator of the conference. "Yet Michigan is the second most diverse agricultural state in the nation. Those two facts underscore an opportunity to create a new picture—one in which people are easily eating healthy local food; farms are thriving; local economies are stronger; and we celebrate community ties."
Farms, Food & Health is being held in conjunction with the Northern Michigan Small Farm Conference, which takes place at the resort on Saturday, Jan. 30.
Immediately before Dr. Miller's evening talk on Friday, a Farmer-Buyer Meet and Greet will be held from 5 to 7 p.m., coordinated by the organizers of both conferences. It will provide an opportunity for farmers to meet hospital, school and other wellness buyers interested in purchasing more local food wholesale; or employers interested in connecting with farms for employee wellness benefits.
Blue Cross Blue Shield of Michigan and Munson Medical Center are both sponsors of Farms, Food & Health.
"I'm excited for Farms, Food and Health because it gives us the chance to network and learn from others doing innovative work in this area," said Christi Nowak, Community Health Manager, Munson Medical Center.
The following continuing education credits apply:
Continuing Professional Education for Registered Dietitians
Professional Standards Training for School Nutrition Program Staff
K-12 educator SCECHs upon approval
Medical Continuing Education credits upon approval
Early-bird tickets to Farms, Food & Health are $35 and available through Dec. 15. After Dec. 15, the ticket price goes up to $45. On-site tickets to Farms, Food & Health are $55.
Registration and conference details are available online at www.groundworkcenter.org/ffh.
To learn more and secure a sponsorship, contact Dani Knoph at [email protected].