We are all still buzzing from the vibe, ideas, solutions and positivity that drove Groundwork's Michigan Clean Energy Conference & Expo last weekend. To keep it all going, we are sharing live stream video from five of our favorite sessions, including an insightful and provocative opening keynote by Detroit energy efficiency inspiration Carla Walker-Miller. Pick and choose or tap into the whole set (which is what we recommend!).

And huge thanks to the Groundwork team's Miriam Owsley and Dan Worth, and to Allison Beers and her crew at Events North for a fabulous event! 

HOW LOW CAN IT GO?

Over the past decade, the cost of renewables has dropped dramatically – to the point it is now cheaper than almost every other source of electricity. Large scale renewable projects that aggregate large customer demand can bring the price down even further. Microsoft recently worked with solar developer sPower on the largest corporate purchase of solar power in the nation.
How Low Can It Go? will feature Ken Davies, Director of Renewables for Microsoft and Jim Howell, the Chief Development Officer at sPower, which developed the 500MW solar project. Joining them will be Marty Lagina, a prolific renewable energy developer in Michigan, to talk about going big on renewables and and Zach Anderson, VP of Power Supply for Wolverine Power Supply Co-op.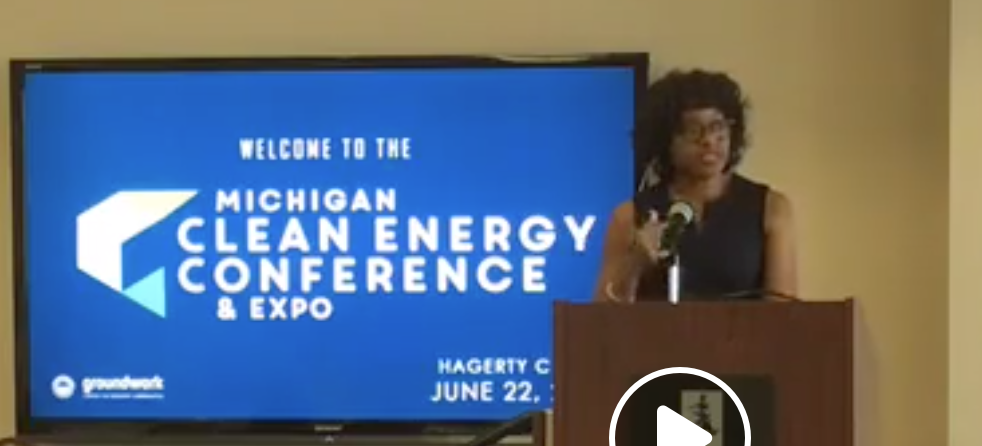 Carla Walker-Miller, founder, president and CEO of Walker-Miller Energy Services
OPENING KEYNOTE BY CARLA WALKER-MILLER
(Carla Walker-Miller appears in the video about minute 32)
As founder and CEO of Walker-Miller Energy Services (WMES), Carla Walker-Miller is a savvy entrepreneur and a visionary leader determined to change lives through energy.
With decades of energy industry leadership, her 18-year old Detroit-based firm develops and implements energy efficiency solutions for utility, residential and commercial building owners.
Carla Walker-Miller led her business to double-digit growth after the recession, earning both local and national recognition as an innovative company. As a proud Detroit booster, Carla champions issues related to water affordability and the intentional recruitment, training and employment of black Detroit residents.
THE UTILITY OF THE FUTURE
Today's utilities find themselves at a crossroads. Between steep drops in the cost of distributed solar, the onset of affordable onsite storage, and dramatic changes in customer demographics and expectations about access to clean energy and even new utility services, the old paradigm of "we make it, you buy it" is being challenged like never before. As a result, utilities and cooperatives across the country are re-imagining their role as local economic players and community partners. This closing plenary highlights the exciting work of leading national and local utility leaders, while pushing them to imagine what their utility will look like in the years to come.
HELPING SOLAR SHINE THE LIGHT ON THOSE THAT NEED IT MOST
The clean energy revolution is bringing with it tremendous benefits—but too often those benefits flow to wealthy homeowners, business leaders, and development companies. The US Department of Energy Solar In Your Community Challenge is an effort to shine light on local efforts across the US working to bring the benefits of solar to the hard-working heroes in our communities struggling to make ends meet. Hear the inspirational stories of local Michigan innovators working to bring the benefits of solar to those who need it most.
HOW FARMERS ARE INCREASINGLY HARVESTING THE SUN FOR POWER
Northwest Michigan is home to some of the best farmers in the world. From asparagus to cherries to apples and corn, agronomists have learned to effectively harvest solar power long before solar arrays became affordable. Now, our local agri-businesses can both grow their product and power their operations with solar. Join us to hear from Cherry Republic President Bob Sutherland, who has been a local leader on solar and farmers for decades, John Dindia, a local farmer who just went solar with help from Bob, and Ken Zebarah from Harvest Energy, which has developed a topnotch program for solar on farms.
Enjoy. Here's to hoping the conversations inspire clean energy ideas and solutions of your own!