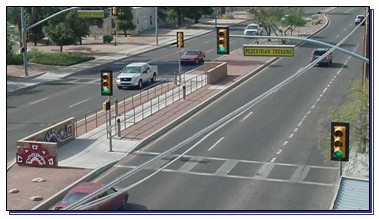 Crossings like this could help pedestrians cross Grandview without a major impact on traffic flow.
In 1953, the Michigan Department of Transportation opened Grandview Parkway to move traffic and trucks away from downtown Traverse City, and better connect Leelanau County with communities east of Traverse City.
Before the road, the area along the water was an industrial area filled with logging operations and the related infrastructure like railroads and shipping docks.
Not anymore. Instead of logging companies, the area is now filled with open space, festivals, recreation and people. But Grandview Parkway itself, with roughly 30,000 speeding cars a day and just a few pedestrian crossings, is a barrier for those who want to walk between downtown and the bay.
On a walking tour last summer, transportation expert Jeffery Tumlin said crosswalks with traffic signals in a few areas would actually improve traffic flow and make it safer for pedestrians to cross.
Here are a few ways to improve flow so the parkway can better handle traffic and, at the same time, become safer for those who want to cross between downtown and the lake.
In the short term, the Michigan Transportation Department of Transportation and the City of Traverse City can work together to:
·  Replace the tall highway-style overhead lights with lower, pedestrian-scale lamps, that give motorists the impression that pedestrians are likely in the area;
·  Add street trees along road and more landscaping in medians to calm traffic;
·  Upgrade existing crosswalks and add crosswalks with signals where appropriate;
· And, of course, better promote the existing transit connection. The Bay Area Transportation Authority launched a new bus route last year that connects the Acme/Williamsburg area to downtown Traverse City.
There is also a lot of good information and recommendations worth checking out in two recent studies: The 2007 report, Your Bay, Your Say, and the 2006 report titled Across Grandview Parkway.
Improving Grandview Parkway is just one piece of a broad set of strategies to reduce congestion in the Traverse City area. Other strategies include improving Division and S. Airport Roads, upgrading Keystone and Beitner roads, and making it easier for people to get around without a car.
James Bruckbauer is the Michigan Land Use Institute's transportation policy specialist. Follow him on Twitter at @jimbruckb. Reach him at [email protected].