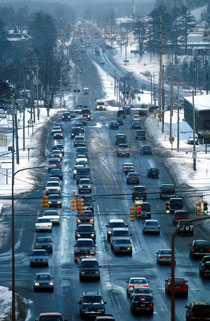 Traffic is a much-talked challenge facing Traverse City. To many, traffic congestion hampers business growth, angers tourists, and hurts neighborhoods. For others, congestion is a signal of a strong, thriving economy.
Either way you look at it, you can probably find a better use for your time than sitting in bumper-to-bumper traffic. Public officials must find ways to manage congestion, and manage it well.
Since most cars on our busiest roads are heading into Traverse City, not traveling through Traverse City to go somewhere else, we can focus on those trips first.
We also know we can't build our way out of congestion. No city in the world has ever done this, and Traverse City will not be the first. We can, however, manage regional traffic and reduce in-town, peak-hour commuter traffic by following simple steps.
In order to alleviate congestion, our officials must:
1. Improve Division Street: Improve travel flow, intersections, and crossings;
2. Improve Grandview Parkway: Improve intersections and crossings;
3. Improve South Airport Road: Reduce driveways, improve traffic signals, add service drives, sidewalks, and better transit connections.
4. Manage the demand: Reduce traffic at the busiest times by making it easier for people to get around without a car;
5. Upgrade Keystone and Beitner roads: Use our existing roads to make it easier for cars and trucks to get around Traverse City.
These common-sense proposals have been on the table for years, and carry broad public support. Some are already in the works. We need to keep moving forward.
We'll explore these proposals in detail in an upcoming blog post series titled Five Ways to Beat Traffic in TC. Stay tuned.
James Bruckbauer is the Michigan Land Use Institute's transportation policy specialist. Follow him on Twitter at @jimbruckb. Reach him at [email protected].