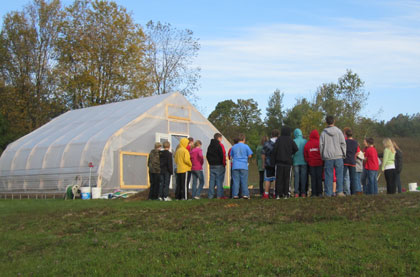 Students at Platte River Elementary check out their new hoop house.
Late last month, students at Platte River Elementary harvested their first produce from their new school hoop house for a quick science lesson and delicious treat.
Four sixth-grade science classes marched to the hoop house in the brisk fall air, and harvested their first radishes. They brought the bounty back to class to examine the radish plant parts and learn about structure and function. After a scientific observation, they sampled the radishes, making it a tasty science lesson!
The students also had the chance to try a unique, dark green leafy vegetable called kale, grown locally by farmer Meryl Estes of Narrow Gauge Farm in Beulah. The farm grows a wide variety of vegetables and also sells jams, eggs, and maple syrup.
The whole cafeteria tasted a freshly prepared kale salad during lunch, and some students got another taste during hoop house school garden tours with their individual classes.
We're helping the students grow kale in the garden, so there will be much more to eat come springtime. And it's a good thing, too; of 103 students who sampled the kale, 70 students said they "loved it" and 20 students "liked it."
By the request of many students, we have included the recipe for the simple kale dish sampled at school in the sidebar.