FoodCorps is a national nonprofit service organization that describes its purpose as connecting "kids to healthy food in school, so they can lead healthier lives and reach their full potential." Focused on high-needs schools, members serve where 50% or more of students qualify for free or reduced lunch. Your involvement enables this essential program to continue.
In 2011, Groundwork became a founding service site for FoodCorps, and today we remain a FoodCorps service site, with a service member active in schools in Boyne Falls, Pellston, Alanson and East Jordan. Through FoodCorps, our staff and service members work directly with school administrators to prepare hands-on lessons, improve the health of lunches and create a healthy food culture.
Please contact Groundwork Local Food Policy Specialist, Jen Schaap for more information about how FoodCorps programming can help your school's children establish lifelong healthy food skills.
WHAT'S HAPPENING NOW?
Foodcorps News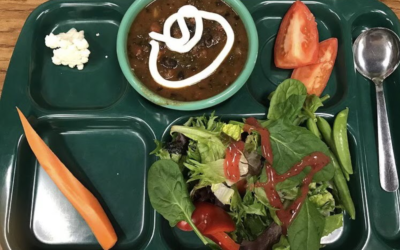 Back in August, the day before students returned to their place of learning for the fall, I eagerly stood with school employees and Groundwork colleagues in the first lunch line of the year at Boyne Falls Public School. It was a moment of great anticipation for...