Groundwork's annual farm-to-table fundraiser brings friends, neighbors and farmers together to honor our extraordinary local food movement and celebrate solutions that support environment, economy and community.
We are responding to the COVID-19 pandemic by reimagining how to celebrate local food and community. Join us on October 10, 2020 for Harvest at Home - a livestream event where you can participate by cooking the local food feast at home. Celebrate with an evening of entertainment, stories, music, a live auction, and fun!
Groundwork was central to launching the local food movement in northern Michigan, and "farm to table" is a beautiful and delicious part of the local food ideal. We felt it would be wonderful to celebrate the success of our local food movement with a community-building event and raise funds for more great work. Harvest is certified as a 100% Local Food Event by Taste the Local Difference, so all of the food is sourced from farms, food processors, and beverage makers in northern Michigan!
We have scoured the web looking for a farm to table event with more than 650 attendees on this side of the mighty Mississippi, but have not found one. In fact, the only larger farm to table event we could find in the United States was in Sacramento, California! So we are laying claim to the title of biggest farm to table event east of the Mississippi!
With that said, in 2020, due to the COVID pandemic, we are changing Harvest a fully online event. This will be complete with a cook-along, live music, silent auction, and more. Check the official Harvest @ Home website for all the delicious details!
For more information about Harvest at the Commons, please contact Manager of Events and Outreach, Miriam Owsley.
Learn more about our
Past events
Enjoy "Harvest at Home" - our 2020 Livestream Event
Harvest at the Commons 2017 Video
2019 Harvest video: This Wouldn't Happen Without Groundwork
WHAT'S HAPPENING NOW?
Harvest at the Commons News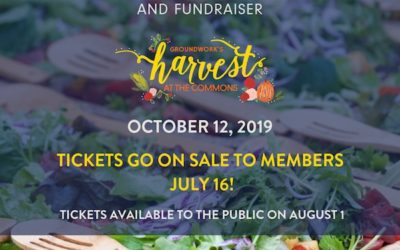 Just hours between you and your tickets to Harvest at the Commons! (Last year, Harvest sold out six weeks early, so don't delay!) Member tix go on sale July 16. Not a member? Sign up!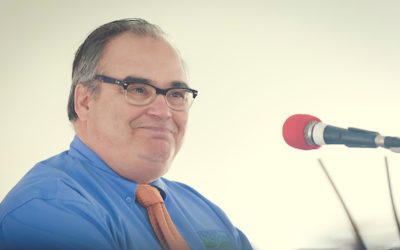 On this Thanksgiving Day, join us in sending a heartfelt thank-you to Kim Pontius, CEO of Traverse Area Association of Realtors and Groundwork 2018 Milliken Award recipient. We ask him to reflect on the Grand Vision, a planning effort he played a big role in, now that nearly a decade has passed since its completion.
Simon Joseph signed on for a fifth stint as Harvest Dinner's head chef. He shares memories and thoughts on the spirit of the event.