Above: Balloons greeted bikeshare users on Day 1 of St. George's new mobility program.
In the southwest corner of Utah, St. George is a growing city with a long tradition as an outdoor recreation and tourism destination. With Zion National Park just 30 miles northeast and the Grand Canyon 60 miles to the south, St. George has succeeded in attracting new residents and visitors alike.

But in recent years, St. George has also become known as a pioneer for small town micro-mobility and active transportation. In the span of only three years, St. George adopted their first ever active transportation plan and introduced bike-share and e-scooter programs, all of which are quickly changing the face of mobility in the city.
The micro-mobility developments are part of a larger trend in St. George that captures the city's recreational and tourism strengths. The city began capitalizing on active transportation in the mid-'90s with the construction of the first paved multi-use trail system in Utah. Today, the 70-mile trail system helps move people in St. George not only between their homes and work, but also to scenic landscapes in the surrounding Mojave Desert.
Another transportation milestone for St. George's was the election of Jon Pike as mayor in 2014. An outspoken advocate for biking and walking, Pike led creation of the city's first active transportation plan, in 2016, which added more miles to the trail system and more bike lanes throughout the city. Pike then encouraged the city to experiment with some of the promising new technologies of micro-mobility.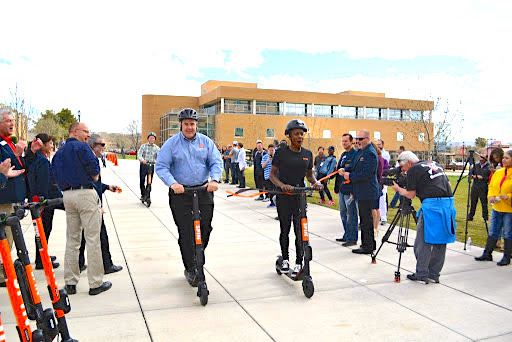 While the data for St. George is still rolling in, city officials have called the volume of rides "mind-blowing." Shortly after launch, nearly 20,000 e-scooter trips were being made each month. Officials are encouraged by findings that suggest bike-share and e-scooters "complement" each other rather than compete. It would appear that the more alternatives to the automobile a city offers, the less people choose to drive.
---
Series – Lessons in Small City Mobility
Read Jake Myers's other articles in the Lessons in Small City Mobility series:
Shared Bikes Get Rolling in Ithaca, New York
West Lafayette Sets Scooter Rules for the Road
---
What's more, the bike-share and e-scooter pilot program was funded through a partnership of health and tourism agencies, which showed cross-sector community support for the new mobility tools.
To learn more about how a small Utah town became an innovative mobility leader, T.C. Mobility Lab spoke with Marc Mortensen, vice-president of the Southern Utah Bicycle Alliance, and support services director for the City of St. George.
Hi Mark! What is the Southern Utah Bicycle Alliance?
We're one of St. George's many biking nonprofits that advocate for bike-friendly infrastructure and policies. Some of our work helped create the city's first active transportation plan in 2016.
What's an active transportation plan?
Active transportation is just planner lingo for walking and biking as a primary means of transportation. So, an active transportation plan is the city's blueprint for how to improve the active transportation system. These plans establish a vision and goals, then identify the actions required to accomplish them.
What's in your active transportation plan?
The plan breaks down into an analysis of current conditions, then recommendations for policies and future infrastructure. In our analysis, we learned that St. George has a good trail system, but few bike lanes. Our plan sought to solve this by identifying streets that would be suitable for a bike lane, and recommending that bike lanes be added to these streets during any maintenance or resurfacing. Since the city began implementing this policy, we've been adding nearly twenty miles of bike lanes each year.

Did your active transportation plan have any recommendations for bike-share or e-scooters?
Our interest in bike-share and e-scooters came a couple years after we had finalized the active transportation plan— Zagster bike-share launched in 2018, and Spin e-scooters in 2019— but we consider them part of our active transportation efforts. E-scooters might not be as "active" as walking and biking, but they utilize much of the same infrastructure, and are just as much a social and outdoor form of transportation.
What's the story behind the bike-share system?
Bringing bike-share to St. George has been a goal of Mayor Pike since he was elected in 2014. We saw it as a way to promote health and reduce pollution, and it fits in well with the goals of the active transportation plan. We partnered with Zagster, which would run and operate the system, but it did take some convincing to bring them to St. George.
Why was that?
They wanted us to provide almost $90,000 in matching funds to help launch the system, which wasn't in our budget. So the mayor led a fundraising campaign that the community rallied behind. We received donations from all over—the tourism center, the hospital, Dixie State University, and even some attorney's offices. In exchange for the pilot funds, Zagster sends the city 93% of all bike-share revenue, which we invest into more active transportation projects.
When did e-scooters enter the picture?
When e-scooters began taking off a few years ago, the mayor asked me to research if they were something that could work here. We're not the typical city you'd find them in, but since we are a recreation hub, we figured they had the potential to work. When Zagster heard we were interested in e-scooters, they offered to bring in Spin as a third-party partner, which ended up being a great deal for the city.
What stood out in the agreement with Spin and Zagster?
Because we'd already partnered with Zagster, the companies agreed to bring in Spin at no additional cost. We were even able to get them to pay us to provide the scooters—a dollar for each scooter in St. George, per day. This has already raised $100,000 in revenue so far, which is even more money we can reinvest into other active transportation projects.
How have you regulated e-scooters?
Our ordinance for e-scooters set out to regulate the number of scooters, as well as the locations they can be parked. We realized quickly that our restrictions on 100 scooters was overly prohibitive, so we increased that to 400, and we are considering raising that even more. Our parking rules were mostly focused on keeping the scooter out of the right-of-way, and that seems to be working. But we also found that getting rid of some rules was as successful as making new ones. We overturned some of our trail system's rules on motorized vehicles to allow for e-scooters, as well as lifting some restrictions that had prohibited bikes and scooters on sidewalks. We learned that if we were too restrictive, these programs wouldn't work.
Have you been able to gather any data on the programs so far?
While Zagster is more private with their data, Spin provided us with some useful information. Since each scooter is geo-tracked, we were able to generate an activity heat map. Seeing the amount of activity downtown and on the trail systems prompted us to change some of our rules to be more accommodating. The map also showed us locations we'd placed scooters that weren't receiving much activity, which allowed us to move them to better locations. We also received demographic data, which told us our largest rider groups were between the ages of 18 and 24. This information helps us plan better to accommodate the students at our local university.
Lastly, the data showed that our regulations for hours of operation were wrong, since people were riding earlier and later than we'd expected. This last part is a simple demonstration of what we've learned in St. George: if you want things to work, you can't be overly restrictive. To a certain extent, you need to let things happen naturally.
Post-script: Due to contractual rearrangement between Zagster and Spin, Zagster is replacing its fleet of Spin e-scooters with e-scooters from a new vendor sometime this summer under a similar contract.
Jake Myers is Groundwork's Mobility Policy Specialist. [email protected]