Above: Multifamily row houses built America's iconic cities, and they remain in great demand today. A lack of residences such as these tried-and-true smaller multifamily dwellings is part of the "missing middle" problem that housing advocates see as essential to solving.
Recently I attended the 8th Annual Northwest Michigan Housing Summit organized by Housing North, a community-led gathering to solve the housing crisis in northern Michigan by addressing each community's unique barriers.
Here's what caught my attention at the conference.
1. There's good housing news
It turns out that it's actually been a pretty good year for housing action. This is something I think we need to hear more of, since I believe positivity can breed positivity. During one of the discussions at the summit, a group of panelists spoke about some of the victories from the year, which include additional housing funds at the state level to support building new units.
The first big win was that in January, Governor Gretchen Whitmer established the Office of Rural Development. One of the department's responsibilities is to facilitate rural affordable housing development, and we can bet it will be a high priority since the new director is Sarah Lucas, who led the development of Housing North as an organization!
There are currently four housing bills that Housing North is expecting a vote on before year end. The bills would create policies that support more housing flexibility across the state. One in particular would allow local governments the ability to develop Payment in Lieu of Taxes (PILOT) policies and enter into agreements with developers who are building or rehabbing affordable housing units.
Michigan State Housing Development Authority (MSHDA) is leading the development of Michigan's first collaborative statewide housing plan. A plan is critical for a coordinated, data-driven, outcome-orientated approach to housing.
MSHDA launched a new Missing Middle Housing Program. The program provides funding to developers investing in, constructing, or substantially rehabbing properties.
It was announced that there is a new State Land Bank grant called the Blight Elimination Program (submissions due January 31, 2023). The purpose is to provide grant dollars to land bank authorities and local units of government to address property needs. Up to $200,000 is available per county.
Of local interest, the Michigan Court of Appeals overturned a ruling regarding how building height is measured in Traverse City, declaring that certain mechanical and architectural features like elevators and clock towers can exceed 60 feet without the building having to go to a public vote. This means the zoning rules will be enforced the way they were prior to the lawsuit. The court ruling will help move forward multiple housing developments that were paused due to the dispute.
2. Multifamily housing worked for generations

Multifamily homes have been important options for American families for generations. Photo: MML's Pattern Book Homes
One breakout session featured architect Amanda Harrell-Seyburn from East Arbor Architects. She talked about how duplexes and triplexes worked well for generations and how they were normal and fit beautifully onto neighborhood streets. Walk around a historic neighborhood and look very carefully, you may spot one.

With housing prices increasing and land in town limited, she talked about how we need to start normalizing homes where several families can live within one overall structure. To make building these kinds of homes from the past more accessible today, her company partnered with the Michigan Municipal League and Michigan Economic Development Corporation to develop architectural plans that can be utilized by anyone for free. Many sketches later, they landed on designs for a duplex and a fourplex that can be found in the guide titled This Used to be Normal: Pattern Book Homes for 21st Century Michigan.

The two largest generations in their home-buying years are the baby boomers and their millennial children. It was cited during the summit that 56% of millennials and 46% of boomers have indicated a preference for living in walkable communities on properties with less maintenance and they are willing to trade square footage for greater local amenities. Building these kinds of homes that have smaller individual unit square footage is exactly what the market needs. To accomplish this, let's make sure our local zoning codes allow us to build what we were able to build in the past.
3. Why we need every style of housing
There is an affordability gap in Michigan–the cost of housing is far outpacing the rise in wages. With incomes relatively stagnant, it's clear that we need more housing locally that can fit into people's budgets. While we do need more affordable units, we need the pricier market-rate ones too.

On the last day of the summit, I attended a session led by Housing Next based in West Michigan (which serves a similar housing advocacy role as Housing North in our region). Their lead consultant Ryan Kilpatrick talked about what he describes as the step-down effect.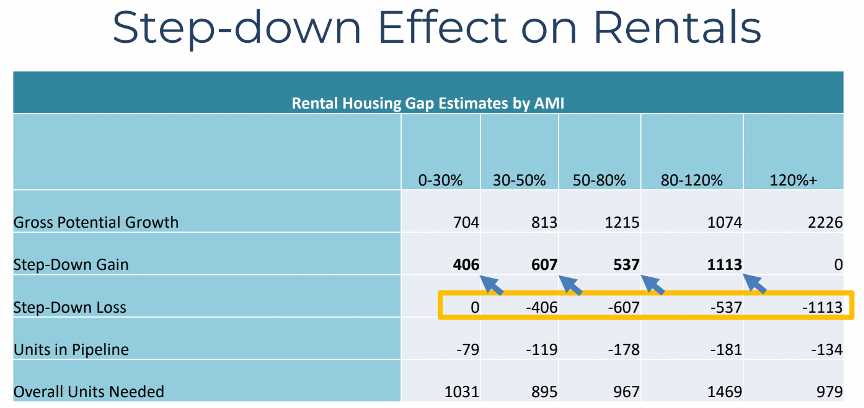 As housing prices rise, purchasing habits reduce the inventory of low income homes, exacerbating the existing scarcity.
Essentially, the idea is if we aren't building enough market-rate housing, higher earners will take the next available housing type that is desirable to them since they have the greatest purchasing power. This leaves each next income bracket to do the same, which increases the demand and price of housing and leaves those at the lower end of the spectrum sometimes literally out in the cold.

One solution that can help when building new apartments is set-asides. While most of a building may be market-rate to cover building costs, incentives can be given to a developer to add in several units specifically for people leaving homelessness or with a lower percentage of Area Median Income.

Thanks again to Housing North for organizing a wonderful conference that brought together people and ideas under one roof. It was clear that great progress is being made. As one presenter put it, it's like Newton's first law of motion, it may take a lot of energy to get going, but once an object is in motion, it's likely to stay in motion.