Above photo: Nathan Medina walks an autumn woods.
Governor Whitmer declared September Hispanic Heritage Month in the state of Michigan, with a proclamation at the beginning of September, while National Hispanic Heritage began on September 15th and extends through October 15th. During this time, we celebrate the enormous contributions that people of the Hispanosphere/Latinidad have contributed and continue to contribute to American society.

Let's start with some background: "Hispanics"—a generally odious, inaccurate and servile demonym in its own right—are represented by many nationalities, including people from Argentina, Bolivia, Chile, Colombia, Costa Rica, Cuba, Dominican Republic, Ecuador, El Salvador, Equatorial Guinea, Guatemala, Honduras, Mexico, Nicaragua, Panama, Paraguay, Peru, Puerto Rico, Spain, Uruguay, and Venezuela. People of Mexican descent, myself included, account for over two-thirds of the Midwest's Hispanic population.
In many cases, we've been in the Great Lakes region for several generations, as long as—or longer than—many of our Anglo counterparts. And it goes without saying that many of us have pre-Columbian ancestry, which connects us to the Americas, uninterrupted, for centuries before the arrival of genocidal Europeans. Most of us are mestizo, meaning that we have the mixed blood of both the conquistador and of the native Mezoamerican population. For instance, my 14th great-grandfather was styled Conquistador of Nueva Galicia, Encomendiero of Tlaltenango y Tepechitlán, and even further back, my 16th great-grandfather served as the Spanish crown's second governor of the Indies, with a direct connection to Columbus. Talk about internal conflict!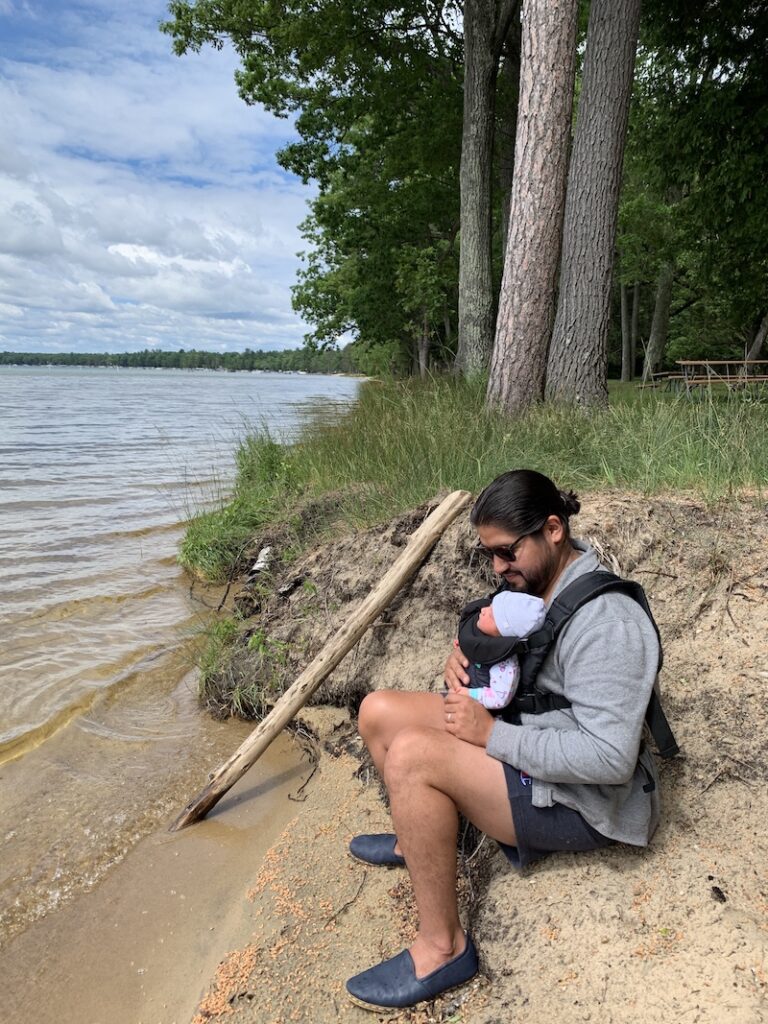 Over the course of the past century, we've gone from Mexicanos to Tejanos to Chicanos to Michi-canos!
Back to the present day, one half of my family's story is similar to most of those mid-20th century Texas migrants who would seasonally go back and forth from South to North as harvest seasons came and went: Tejano either by birth or by merit of having sought refuge during the Mexican Revolution; Chicano by merit of being born in the U.S. of Mexican ancestry. What brought my family to the Midwest was manual agricultural work, but, in many ways, what Michigan had to offer in the fields and foundries from the 1920s thru the '60s was more welcoming than the "No Dogs or Mexicans" hostility—or even lynchings—of Texas. And thus, we settled in the industrial cities of El Norte after we tired of the transient back-and-forth. On the other side, my maternal grandfather was born in East Chicago, Indiana, in the 1930s, meaning that we've been around the region for nearly a century, which by any measure should be long enough to establish one's Midwestern bona fides. Over the course of the past century, we've gone from Mexicanos to Tejanos to Chicanos to Michi-canos!
I'm going to great lengths to paint this picture to prove that while my family may not have crossed the Atlantic on an ocean liner or passed through Ellis Island, we didn't have to. Plymouth Rock, in a sense, landed on us when we were here minding our own business on the North American continent. And, yet, despite all that, it sometimes feels like it's hard for people to recognize the fact that we're as American as apple pie, even if that pie more closely resembles an empanada. And that's the case for many of us here, operating in a country or maneuvering around institutions or power structures that may not have been formed with the inclusion of us in mind.
Against that backdrop, the Michigan Department of Natural Resources announced its 2021–27 Public Lands Strategy, which includes a push for "residents and tourists of all abilities […] to have incredible experiences on public lands through diverse and inclusive outdoor recreation opportunities." I have been calling for state government to take this kind of inclusive approach to recreation since serving as a staffer to then-State Rep. John Espinoza (D-Croswell), who served as chair of the House Appropriations Subcommittee on Natural Resources back in 2008–10. Presently, our state's "recreation passport"—indicated on our license plate tab—is the default mode of entry into our state parks, and its "opt out" structure means that the many are subsidizing the experience of a few. It's a disparity made even greater because of the pandemic, during which the state's white residents have flocked to state parks—near and far.

While a mix of folks visit our parks, the majority of guests remain white, able-bodied, and with disposable income. And, as traditions and wealth get passed, it's definitely easier to get into nature if you can borrow or receive hand-me-down gear from family and not have to start from square one. Folks are nearly universally polite at the campsite, but the occasional inflammatory bumper sticker or crass novelty flags can hint at potential hostilities lurking underneath the surface of a veneer of civility.
While my family may not have had an Up North cottage at our disposal, I'm lucky to have still spent time enjoying the bounty of Michigan's outdoor splendor in all four seasons; regularly spending weeks at a time in Cheboygan, Gaylord, Muskegon, Grand Haven, Traverse City, Sault Ste. Marie, Saint Ignace, Marquette, and everywhere in between. We rented cabins, shore-fished, mountain-biked, hiked and even booked the occasional charter boat. There was never a place where we dare not go.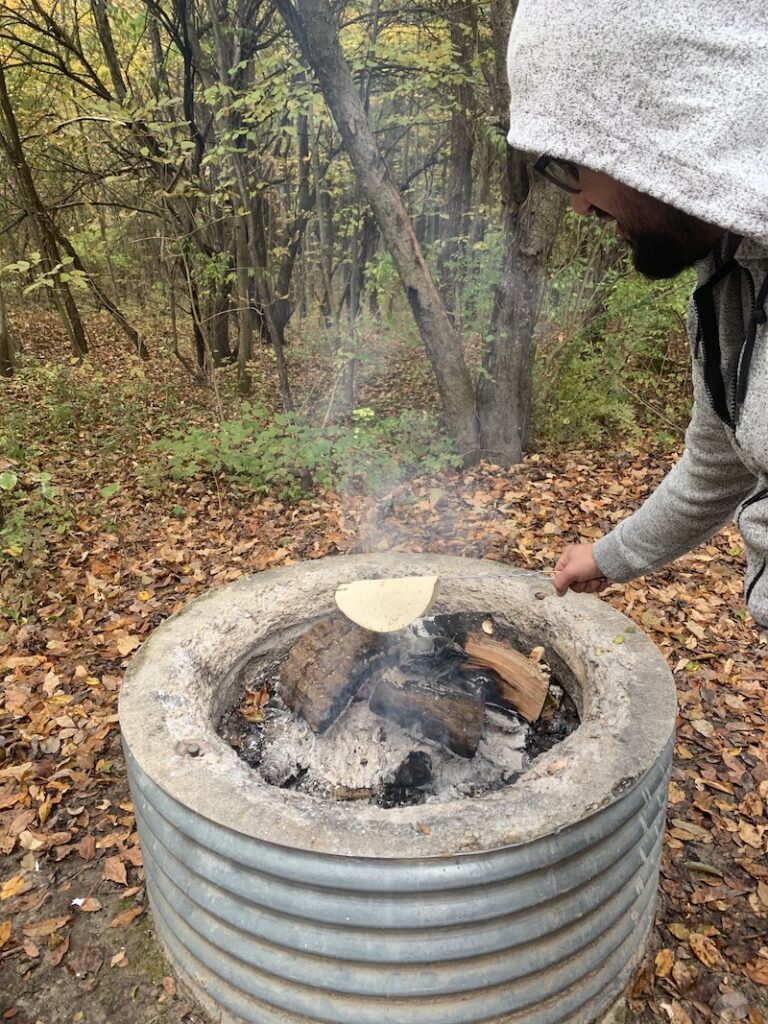 I can understand how it could make people wonder, Do we belong here?
I do, however, recall some instances of bizarre reactions, weird comments, and strange looks to our presence. Once in Houghton Lake, sometime around 1996–97, I was asked by two white girls if my family, who had arrived in a luxury car, were a "part of the Mexican Mafia." The car also elicited other rotten comments from envious old white men, not unlike The Muppet Show's Statler & Waldorf, who sneered at one another while I was still in earshot: "I remember when not just anyone could afford a Cadillac …"

Not every Chicano or person of color's experience in Michigan will match mine or my family's, and I certainly haven't let those puzzling interactions negatively affect or deter my enjoyment of our natural resources or parks, but I can understand how it could make people wonder, Do we belong here? or otherwise just feel uncomfortable or self-conscious in an overwhelmingly white, and occasionally hostile, space.

A recent article in the Michigan Advance describes a number of barriers that people may face in enjoying outdoor recreation, including distance, economic disparities, and even historical trauma associated with outdoor spaces, all of which are certainly legitimate reasons for the outdoors experience gap. Thinking of migrant workers and the nature of their labor, they are in-state during growing and harvesting seasons, prime time to be recreating without the need of serious outdoors gear. Even if they were to establish roots in Michigan and make it their home, it may take a bit of trial and error and skill acquisition, and investment in acquiring all of the gear necessary for successful camping excursions, particularly for the different seasons. Even as longtime campers can attest, there's always something that goes wrong or an essential item that gets left behind. And we haven't even mentioned getting acclimated to winter!

While the 20th century, and particularly post–World War II model of land management, tourism and recreation reflected the priorities of the dominant culture of the time and catered nearly exclusively to the interests of returning white male GIs, it is essential that we make sure our natural resources are an open, welcome and inviting place for everyone, regardless of their background. Storied resorts like Lake County's Idlewild may still come to mind as a sort of romanticized Brigadoon, but it's important to remember that Idlewild's position as "Black Eden" was a direct result of segregation and the danger of travelling while black in white supremecist America. Certainly less romantic when viewed through the prism of Jim Crow.
As the state diversifies, it is important that the state's black and brown families can see themselves in the state's recreation goers, and that opportunities reflect our changing demographics. Bringing nature to the people, as we've seen in the exciting announcement of Genesee County's first state park, with the repurposing of the former Chevy Commons former brownfield site in the heart of the City of Flint, is as important as making our existing state park infrastructure welcoming and accessible to all of our state's residents. Breaking the paradigm of keeping parks exclusively rural, white and distant is an important step in building an outdoors culture across populations.

While there are groups that are helping people of color make inroads into outdoors excursions and helping them gain their footing, there is still plenty of opportunity to build a therapeutic and restorative outdoors culture in Latino communities. As Groundwork strives to help build resilient communities in Northern Michigan and beyond, it is important that inclusivity and outreach to communities of color are a part of that ethos. As our population continues to grow—Latinos accounted for 51 percent of the country's growth in the 2020 Census—it's only natural that that population explosion will ultimately be reflected in more increased participation in outdoor recreation.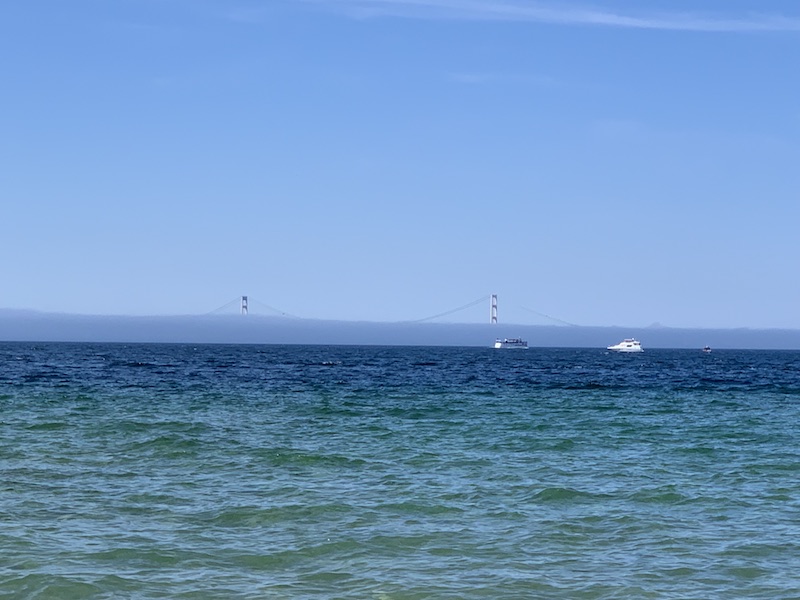 We have seen the majestic and inspiring magnitude of our state's natural abundance. But there are still a lot of folks who haven't. Even lifelong Michiganders.
When looking at the abundance of our parks system, recreation opportunities, and natural resources here in Michigan, we have an embarrassment of riches. And it is essential that we protect and preserve them for generations to come. For those of us who have waded up to our calves at Old Mackinac Point, enjoyed a picnic at Belle Isle, explored Copper Country or even just enjoyed a day at the beach on Lake Michigan in Grand Haven, we have seen the majestic and inspiring magnitude of our state's natural abundance. But there are still a lot of folks who haven't. Even lifelong Michiganders.

It is important to share Groundwork's message about community, environment and conservation across diverse populations, but sharing that message needs to manifest in more than just an expression of words. For that message to resonate thoroughly, it is incumbent that we embrace a spirit of active engagement with—and invitation to—those who may not have had the opportunity to dive into all of the natural splendor our state has to offer. As Groundwork commits to expanding diversity, equity, and inclusion in our own organization, I look forward to helping shape that journey, especially in the area of outdoors experience, which has become such an important, rich and sustaining part of my own life.