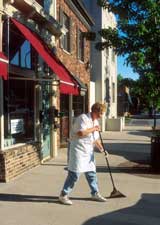 Traverse City residents have a chance to shape the growth of their community. (Photo by Gary Howe)
Do you want to young families and entrepreneurs living in town and growing with the city? Do you want to see more asphalt along Eighth Street? Do you want safer crossings at East Front and Barlow?
City officials want your feedback on the future of these five areas: Garfield Street, Eighth Street, Fourteenth Street, East Front, and West Front Streets. These are places where, for decades, cars and asphalt have dominated the scene, but will soon be the settings for Traverse City's next phase of growth.
It's part of the city's "corridor study" and you can participate by filling out this cool photo survey, this interactive neighborhood-mapper, and attending a public workshop in August.
Through the study, city officials hope to increase the "economic vitality, housing choice, and improving the public infrastructure" around certain areas of the city.
Like many cities, Traverse City's downtown real estate values are on the rise, and that's a good thing. But too often, this trend pushes young entrepreneurs out to neighborhoods just outside of the downtown where rents are more affordable for them.
The area's population is also rising: The county saw 34-percent population growth since 1990, and a 1.3-percent increase between 2010 and 2011, the highest rate in the state. The number of 30-34 year olds in the region is expected to grow by 21 percent, and the city proper is finally seeing modest growth, reversing a 50-year trend of decline.
Our choice is this: We can grow outside of Traverse City—destroying farmland and natural resources, building expensive new roads that we don't want to pay for, and watch traffic congestion around the county—and in town—continue to soar.
Or we can grow the city itself, which has plenty of space left to develop, where sewer and utility lines are already installed, where there's market demand, and where families want to live.
Please participate. This is another chance to decide how Traverse City should grow. Let's work together to fill in the blanks of the city's urban landscape.
Along with cheaper rent for entrepreneurs, these up-and-coming neighborhoods can provide parks, grocery stores, and other shops within walking distance to homes, and therefore, be attractive to young families.
Ways you can get involved:
Take the survey on the project's website here.
Fill out the mapping tool here.
Attend the next public workshop in August.
Questions? Contact Traverse City's Planning Director, Russ Soyring, at 231-922-4778 or visit www.traversecitymi.gov.
James Bruckbauer is the Michigan Land Use Institute's transportation policy specialist. Follow him on Twitter at @jimbruckb. Reach him at [email protected].