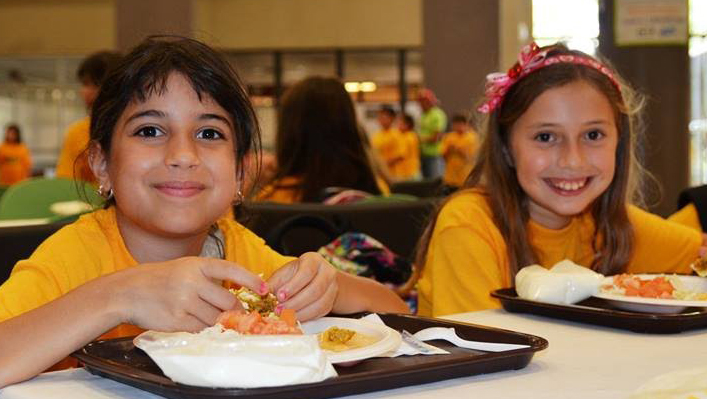 What a difference a year makes.
Last year at this time, the future for Michigan's 10 Cents a Meal for School Kids & Farms program was iffy. The program provides match incentive grants to schools to purchase locally grown fruits and vegetables, and a key subcommittee in the state Senate recommended $250,000 in funding for a second year in two regions of the state. But the House subcommittee provided exactly $0.
This year, thankfully, legislators aren't debating whether or not to continue the popular program, but instead how to expand it. That's good news for those who have seen the positive impact Michigan's investment has had on kids and the state's economy.
"It really gives us a sense of pride to offer the kids such great food," one food service director said in a survey for the program conducted by the MSU Center for Regional Food Systems.
​But it's not over yet, because program funding is different in the state House and Senate budgets. The next couple of weeks could be the last opportunity this year to reach out to legislators and let them know the value you see in the program and how robust you think funding should be. Legislators go into conference committee in May to iron out their budget differences.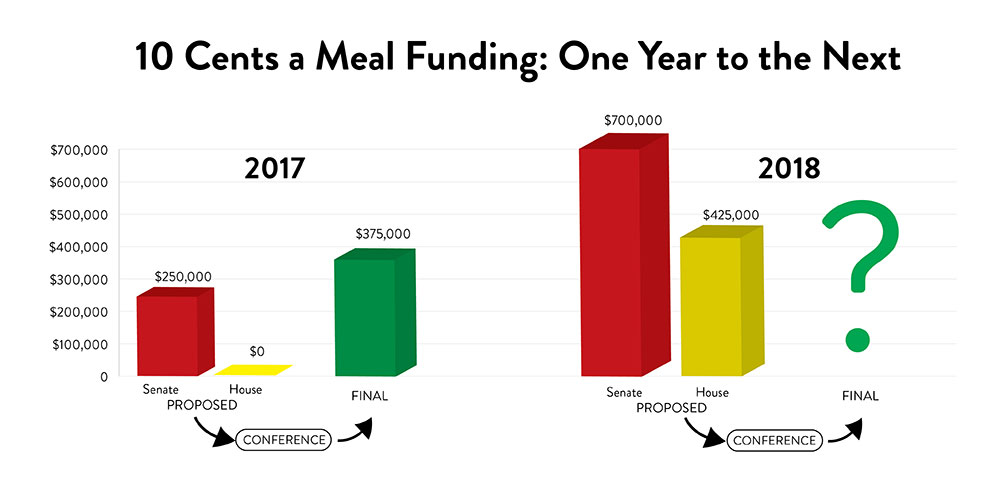 Last-minute feedback can have a big impact. Last year, legislators came out of the conference committee with even more funding than anticipated, and they added a third region to the original two where schools could apply for the grants.
Here's where it stands so far this year, in case you are an in-the-weeds numbers person:
Senate version:
The Senate Appropriations K-12, School Aid, Education Subcommittee, chaired by Sen. Goeff Hansen, R-Hart, included $700,000 in its budget for the program next school year—a $325,000 increase and nearly double this year's funding (which the legislature eventually set at $375,000 after conference committee last year.)
The Senate version would also expand eligibility to schools in two additional Prosperity Regions: Prosperity Region 6, which includes Flint, and Prosperity Region 8, which includes Battle Creek and Kalamazoo. It continues funding to Prosperity Regions 2, 4, and 9, which are in northwest and west Michigan, and the southeast region that includes Washtenaw County.
In essence, the Senate continued its history of providing an average of $125,000 per Prosperity Region, plus it added an additional $75,000.
That extra $75,000 provides the opportunity for growth in the existing 10 Cents regions (only 32 of 78 districts that applied this year could be funded). It also provides an extra cushion of funding as larger districts in southern Michigan become eligible. The Battle Creek, Kalamazoo, and Flint areas have larger meal numbers because of more students, so current funding levels of about $125,000 per prosperity region don't stretch as far.
House version:
On April 10, the House Appropriations School Aid and Education Subcommittee chaired by Rep. Tim Kelly included $425,000 for the next school year, which is significant compared to the $0 it recommended last spring.
It's a $50,000 increase over this year's funding of $375,000, and the House specifically earmarks that $50,000 for Prosperity Region 8, the one that includes Battle Creek and Kalamazoo. The rest is continuation funding for the existing Prosperity Regions.
But 10 Cents is more than just dollar amounts. Here are some other important numbers, released last month in the Michigan Department of Education's report to the legislature about the pilot.
So far this year, the 32 grant-winning school districts (serving 95,000 students) have purchased 80 different fruits, vegetables, and dry beans grown by 112 farms in 34 counties. Of those 80 different farm products, food service directors cited 65 of them as products they'd never before tried with their kids.
"Some students had thirds!" said Holland City School District teacher Traci Jackson about parsnips. "I was excited to be able to share that I used to live next to the farm. This connection made my kids more excited to try the parsnips."
In northwest Michigan, Beth Kavanaugh, food service director for the Public Schools of Petoskey, pointed to trash cans to show the program's impact.
"There is reduced food waste, with an increase in student consumption of fruits and vegetables during lunch," she said. "This is noticed not only by the lunchroom aides and cooks, but by the custodial staff. They literally grab my arm, walk me to the trash, and show me how much food is not wasted anymore."
And in southeast Michigan, Meaghan Eckler, food service director for Bedford Public Schools, said the local food just looks better.
"I'm getting longer shelf life out of it, it tastes better, and students are definitely grabbing it on the lunch line," she said.
It's also impacting Michigan's economy.
"The grant has inspired me to drill down into the community as much as I can," said Jessica Endres, food service director with the Thornapple Kellogg School District in west Michigan. "Before, I would have considered 'local' as states surrounding Michigan."
You can find additional statistics and quotes about the 10 Cents a Meal program in the legislative report from the Michigan Department of Education, which administers the program. Additional information and stories are available at tencentsmichigan.org.
You also can see a video of my testimony, along with Diane Golzynski, the state child nutrition director in the Michigan Department of Education (MDE), here, and my previous blog about it here. As I told Sen. Hansen, I've been crunching some lunch numbers from the Michigan Department of Education, and it looks like at least $2 million could fund expansion to all the areas that have shown interest, which also includes the Detroit region.
To share your thoughts about the value of the program and how much funding you think it should have, click here to find contact information for senators, and here for your representatives. Don't forget to thank Rep. Kelly and Sen. Hansen, the chairs of the key subcommittees, and share your thoughts with them as well. State Rep. Larry Inman, R-Acme, also serves on Rep. Kelly's committee and has supported 10 Cents.
I'd love to hear whether or not you've contacted legislators, and what you hear.