This article first published in the Traverse City Record-Eagle.
Electronic, two-wheeled motorized scooters jolted onto local sidewalks and streets this summer, prompting debate about how new mobility tools fit into the fabric of Traverse City.
E-scooters can be a valuable asset for reducing car traffic. They provide an effective way for people to get around town without jumping into a car. They help bus riders get to bus stops or travel the "last mile" from the bus to their destination. And, e-scooters are popular. The nation's "shared" e-scooter companies provided nearly 40 million rides in 2018.
To be successful in Traverse City, new services like e-scooters must be deployed alongside community-led guidelines to keep people safe on streets and sidewalks and keep the town decluttered. They must also fit into a larger transportation strategy that includes commuter incentives, smart mobility tools (e.g., phone apps that track buses or make carpooling easy), and continued investment in transit (e.g., more buses and circulators) trails, safe bike lanes, and sidewalks.
Doing research for T.C. Mobility Lab, I recently visited Columbus, Ohio, the national center of new mobility experimentation. The city's Smart Columbus initiative is a $50 million effort to test the future of mobility, showcasing driverless and electric vehicles, e-scooters, and innovative public transit. Columbus transportation officials told me about the many pieces of their plan for providing options for people to get around.
Photos: (Top) Columbus has reasonable guidelines for e-scooter parking, keeping the "scooter clutter" down // photo by Gary Howe. (Above, clockwise) A self-driving shuttle that circulates downtown. The CoGo bikeshare system was very easy to use. A bikeshare staff discusses the CoGo system with Luke Haas, publisher of Traverse City Business News, who accompanied Jim Bruckbauer and Norte's Gary Howe on the Columbus visit // photo by Gary Howe. (Below) Jim Bruckbauer enjoys a spin on an e-scooter // photo by Gary Howe.
First, to reduce car trips into town, downtown workers can commute on buses for free and buses can beat traffic thanks to dedicated bus lanes during rush hour.
Columbus is spread out, so commuters outside the transit service area use an on-demand shuttle service called SHARE, which fills a market between public transit and rideshare services like Uber, shuttling individuals to work or to appointments. SHARE's real-time trip tracking software groups rides together efficiently.
Once downtown, commuters can walk, use the bike share program or hop on an e-scooter to run errands or get a bite to eat.
CoGo Bike Share is the main bike share service in Columbus. CoGo staff told me most Columbus bike share users are annual subscribers, grabbing bikes throughout the city to commute from home to downtown or to run errands throughout the day. Riders unlock bikes at a station and return them to the same station or a different one.
Columbus also has e-scooters. Based on what I saw, people are following the rules and parking them in designated areas. The city has multiple e-scooter vendors and has policies that promote safety and decrease cluttered sidewalks. For example, if someone reports an e-scooter improperly parked, the vendor has 30 minutes to fix the issue or the vendor can no longer operate in the city and e-scooters are not allowed on sidewalks of streets that are up to 35 m.p.h.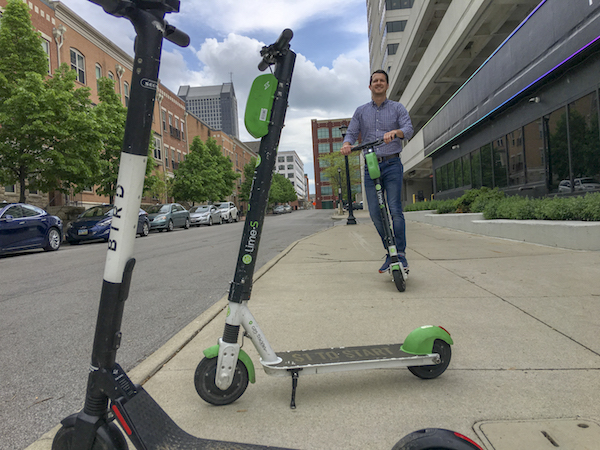 As director of the T.C. Mobility Lab, I am excited to work with Traverse City leaders on rules and regulations for bike share and e-scooters and to create a comprehensive strategy so new mobility options can help stave off traffic jams, free up parking spaces and give commuters more options for getting around.
Do you have thoughts to share about your experience with e-scooters or suggestions for how we can use them to help reduce our traffic? Send me a note at [email protected]
Jim Bruckbauer is the director of the T.C. Mobility Lab, a project of the Groundwork Center for Resilient Communities.