** This column originally appeared in the Sept. 20, 2014, edition of the Traverse City Record-Eagle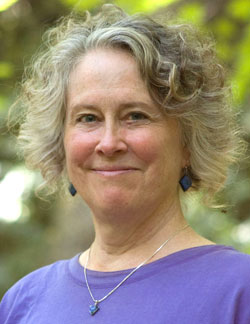 Diane Conners
It's an old saying: An apple a day keeps the doctor away.
In the dizzying array of ever-evolving studies about which foods are healthiest, eating more fruits and vegetables is one fundamental piece of advice that health experts all agree is important in preventing chronic disease and living a vibrant, healthy life.
What if a doctor actually wrote prescriptions for patients to eat fruits and vegetables, and even had the ability to provide a coupon to spend at the farmers market? What if hospitals, schools, and senior meals programs purchased local food routinely, or found ways to use it as an opportunity to inspire patients, students, seniors, and families to eat healthier?
Could employers make it easy for employees to obtain locally grown food as a health benefit? And can we, as a community, find ways to support our schools in buying more local produce for their cafeterias, and to support our teachers in having resources to integrate local food and school gardens into curriculum? Schools, after all, are where children get up to two-thirds of their nutrition each day, and it's where they establish eating habits for a lifetime.
These topics and more, with experienced practitioners from around the state and region as speakers, form the centerpiece of an event on Oct. 10 in Traverse City.
Food, Farms & Health, to be held at Kirkbride Hall at the Grand Traverse Commons, will bring together health practitioners, hospital representatives, health departments, employers, school representatives, farmers, local food distributors, civic leaders, and others who are interested in connecting the dots between health care, wellness, and locally grown food. More details, including the full list of speakers and how to register, are available at: www.mlui.org/foodfarmshealth.
An MSU study calculated what would happen if we got closer to meeting our daily requirements of fruits and vegetables by adding a relatively small percentage of Michigan grown products to our diets. We would create about 2,000 jobs and $200,000 in new income.
I'd guess that we'd also reduce health costs. In the United States, 84 cents of every dollar spent on healthcare goes to the treatment of chronic diseases, according to the national Partnership to Fight Chronic Diseases. Not only that, a 2003 study showed that seven of the most common chronic conditions accounted for $1 trillion in lost productivity.
So, here's another cliché: An ounce of prevention is worth a pound of cure.
And prevention can be tasty, while also providing positive community connections and building the local economy.
Diane Conners is a senior policy specialist at the nonprofit Michigan Land Use Institute, and coordinator of Food, Farms & Health. Other co-hosts are Munson Healthcare, MSU Extension, Traverse Bay Area Intermediate School District and the Northwest Michigan Food & Farming Network. Blue Cross Blue Shield of Michigan, Priority Health and Oryana Natural Foods Market are sponsors. Those wanting to make a weekend of it can also attend a community farm-to-table celebration on Oct. 11, Harvest@theCommons.