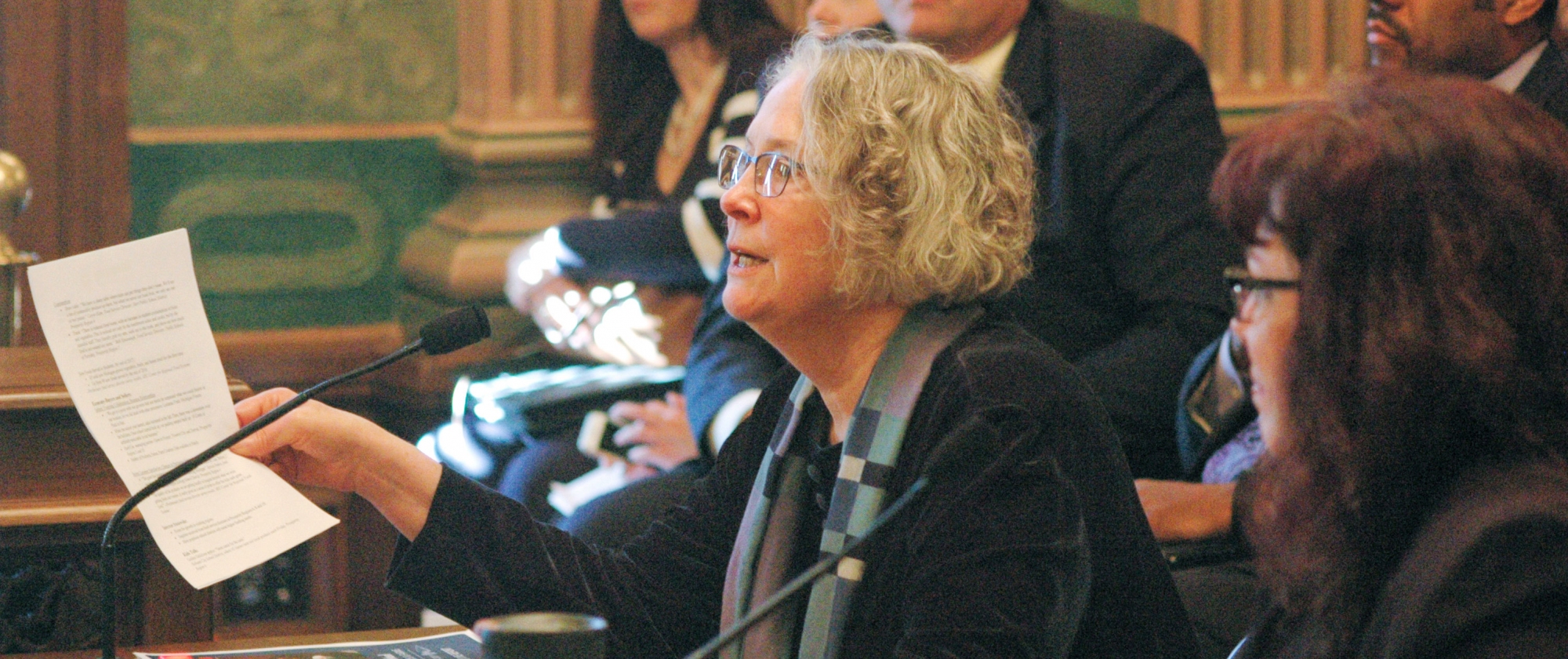 Groundwork's Diane Conners speaks about 10 Cents a Meal for School Kids & Farms at the K12, School Aid and Education subcommittee hearing on 2/28/18.
---
**Legislative Update
The Michigan legislature is moving forward on whether to continue and expand the 10 Cents a Meal program. The upcoming two weeks, when senators and representatives are on spring break, is another important time to weigh in with your thoughts about continuing and expanding it. You can check out legislators' web sites to see if they are having a coffee hour near you over the break and show up in person to talk.
Here is what we know:
The House Appropriations Subcommittee on School Aid and Education has not yet taken action. It is expected to do so soon after it returns to session on Tuesday, April 10.
The Senate Appropriations Subcommittee on K-12, School Aid, Education did act. It officially recommended nearly doubling the budget for 10 Cents, from $375,000 now to $700,000 and expanding it to include the Prosperity Regions that include Flint, Battle Creek and Kalamazoo, as well as the current regions that include the Washtenaw region, northwest Michigan, and west Michigan.
School food service directors and their supporters in the new regions that the senate committee added reached out to their legislators to let them know of their interest in seeing the program continued and expanded.
---
A few weeks ago, I had the privilege of testifying about Michigan's 10 Cents a Meal for School Kids & Farms program before the Senate appropriations subcommittee that is key to deciding whether the program continues.
You can see a video of my testimony, along with Diane Golzynski, the state child nutrition director in the Michigan Department of Education (MDE), here and embedded below.
If you haven't shared your own thoughts with legislators about this program—which provides an extra 10 cents a meal in incentive matching funds for schools to purchase locally grown fruits, vegetables, and dry beans—now is the time.
Early next week, according to partners I work with in Lansing, that Senate appropriations subcommittee and its counterpart in the House are set to report their recommendations for the School Aid budget, where 10 Cents funding lives.
Here are some points I made:
Food service directors tried 65 Michigan-grown fruits, vegetables, and dry beans for the first time as a result of 10 Cents funding.
One food service director said: "The quality of the products we are getting locally is leagues beyond what we were getting from our vendor. It really gives us a sense of pride to offer the kids such great food."
Another said: "There is reduced food waste, with an increase in student consumption of fruits and vegetables. This is noticed not only by the lunchroom aides and cooks, but by the custodial staff. They literally grab my arm, walk me to the trash, and show me how much food is not wasted any more."
One child, in one of numerous taste-test activities launched by food service directors around the state as a result of 10 Cents, said this about Golden Delicious apples: "Great name for the taste."
All of these quotes and data are based upon stakeholder interviews conducted by the Groundwork Center for Resilient Communities with almost all of the food service directors in the 32 school districts that won 10 Cents grants this year; and from monthly surveys of those food service directors conducted with MDE (which administers the program) by the MSU Center for Regional Food Systems.
I coordinated a three-year, local pilot in northwest Lower Michigan that preceded the state pilot, and I'm now a communications partner with MDE on the state pilot. In this role, I've been a point person for information about 10 Cents a Meal for food service directors and their supporters around the state who are interested in seeing the program continued, expanded within the three regions where it's currently operating now (west, northwest and the Washtenaw region), and expanded to additional regions in the state.
Sen. Goeff Hansen, R- Hart, chairs the senate appropriations subcommitee. Rep. Tim Kelly, R-Saginaw, chairs the house appropriations subcommittee. Both were instrumental in including 10 Cents in the state budget the last two years and will be instrumental again.
As I told Sen. Hansen, I've been crunching some lunch numbers from the Michigan Department of Education, and it looks like at least $2 million could fund expansion to all the areas that have shown interest. Currently, the program is at $375,000 from the general fund. For perspective, Governor Snyder's proposed School Aid budget includes $45 million in general funds, not including more than $12 billion that would go directly to schools..
For all schools in northwest Michigan, about $350,000 would fully fund every district. But when you get to more populated areas like Kalamazoo, Battle Creek, Flint, and Detroit, which have also expressed interest, the numbers go up. Detroit Public Schools alone would use $800,000 if it were fully funded.
In northwest Michigan, where the program started, both State Rep. Larry Inman, R-Acme, (who is a member of Rep. Kelly's committee) and state Sen. Darwin Booher, R-Evart, who was its original champion in the senate, have said they'd like to see the program go statewide eventually.
How about you?
If you are interested in weighing in, click here to find contact information for senators, and here for your representatives.
You can learn more about the program at tencentsmichigan.org.

Here's my testimony, along with Diane Golzynski, the state child nutrition director in the Michigan Department of Education: