**This article, by Patty Cantrell of Regional Food Solutions, was originally published at the Wallace Center Good Food Economy Digest
Oregon taxpayers are pleased with the $7.5 million that some Oregon school districts spent on Oregon foods since 2011 with just $600,000 in state incentive. Now lawmakers have nearly quadrupled the level of support over the next two years and expanded the incentive program to all schools.
County commissioners from Lane County, in Oregon's Willamette Valley, are among those who made sure state lawmakers understood and acted on the opportunity. The program makes it easier for schools to try Oregon foods, which adds to the larger-scale, wholesale demand that is beginning to move the needle on regional food economy development.
"As a big county, we put our lobbying staff behind the funding expansion," said commissioner and former state senator Pete Sorenson. "This is cold hard cash in our economy. It's helping the local food-to-consumer sector grow in our county."
Lane County commissioners backed Oregon's legislation because they know Oregon has seen just the tip of the program's economic and social impact. School food purchases multiply in value when they stay and circulate in Oregon. They also boost new market infrastructure such as distribution and processing options, including new products for sale within and beyond Oregon. This is how analysts understand local food can become a staple for consumers and a regular outlet for producers over the long term.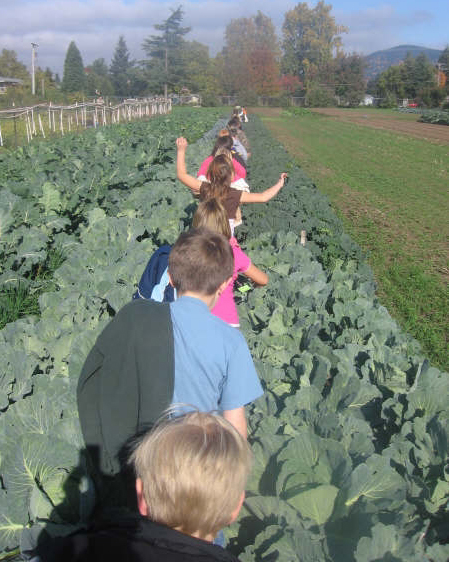 Oregon's new farm to school incentive legislation dedicates $3.5 million over 2015 and 2016 to reimbursing schools for a portion of their Oregon food purchases. Districts representing some 95 percent of school meals have signed up this year already. The legislation also provides $1 million for complementary food and agriculture education grants. Oregon is the first in the nation to take the direct farm-to-school incentive step. In Michigan, a successful regionally funded pilot has strong legislative interest.
Kyle Herbert is a buyer for Lane County food distributor Emerald Fruit and Produce. He has been supplying schools with local farm products from the area for the past five years. Last school year, Lane County districts purchased $446,113 worth of products grown and processed in the area. That's out of $1.2 million that the county's districts spent in the 2013-2014 school year on Oregon-grown and processed products, according to local partner the Willamette Food and Farm Coalition.
Herbert said the local sourcing is an added value that Emerald Fruit and Produce can provide schools, which make up about 10 percent of its business. "It's a small but important piece," he said. "We are able to provide schools with locally grown, and we help other local businesses move their products."
Lane County economic development officer Sarah Case said such import substitution (e.g. carrots from nearby farms substituting for carrots from other places) is just one way the county can gain from putting energy behind local food and farm development.
"Our market analysis found that less than 5 percent of what was being produced locally, was staying local," she said. "Just increasing that number by a few percentage points could have significant impact for our local economy."
Lane County is also supporting import substitution through its work developing a public market in downtown Eugene. "It's a great opportunity for greater access to locally grown foods and reducing the amount of leakage of those local dollars," she said.
Lane County is one of a growing number of communities in Oregon taking action to build their regional food economy, said Annette Liebe, director of Oregon's Regional Solutions planning program. "It is showing up as an economic development priority in regions across the state," she said. "We are in different stages of progress with those regions and their projects on the ground."
Another way local food builds economic opportunity for Lane County is in what Case calls "traded sector" activity. This is about bringing in new wealth with sales of local products to outside buyers.
"An example from our traded sector businesses is Cosmos Creations," Case said. Cosmos Creations produces a premium non-GMO puffed corn snack company and is going through a significant expansion. Lane County has supported that expansion through an economic development grant.
One of the places this new Lane County product might travel is up to Portland where more than 80 larger institutional cafeterias are working together to put their purchasing power together behind Oregon grown and processed foods. The Northwest Food Buyers Alliance includes school districts, hospitals and corporate campuses like Intel and Nike.
Schools are the vanguard for the whole group, said Stacey Sobell, director of the Food and Farm program at nonprofit Ecotrust, which facilitates the alliance. "The bigger districts, especially, move a pretty large volume even though their budgets are slim," she said. "If schools can do it with their strict budgets and regulations, then anyone can do it. And through the alliance, other members, like Intel and Nike's corporate campuses, are also there to help; they can partner on purchases to get a lower price."
Schools are also in the vanguard nationally. More than 42,000 schools are involved in farm-to-school, up from just a handful 15 years ago. They spent $598 million last year on local foods, according to preliminary results from the National Farm to School Census. This level is up 55 percent from $212 million recorded just two years earlier.
These sales feed the growth of local and regional food market infrastructure. In a 2013 national survey, new wholesale intermediaries in the sector, called regional food hubs, reported schools are their third-most common customer after restaurants (#1) and smaller grocery stores (#2).
The local food market's tie back to people and places — to healthy diets, clean water, and strong neighborhoods — is the ultimate economic driver. It's the reason corporate cafeterias, schools, and hospitals are joining restaurants, grocers and other retail in demanding local and regional foods.
Lane County's support for Oregon's farm to school legislation, for example, came out of recommendations to commissioners from a common health department and economic development department work plan, said Connie Sullivan, health department liaison to the county commission.
It's an obesity prevention strategy, she said. It overlaps with economic development, both in local food market development and in lower chronic disease costs.
"Commissioners said this is good economics for the community," Sullivan said. "It brings in money. It is also really healthy for people."
Image Credits: Willamette Food and Farm Coalition