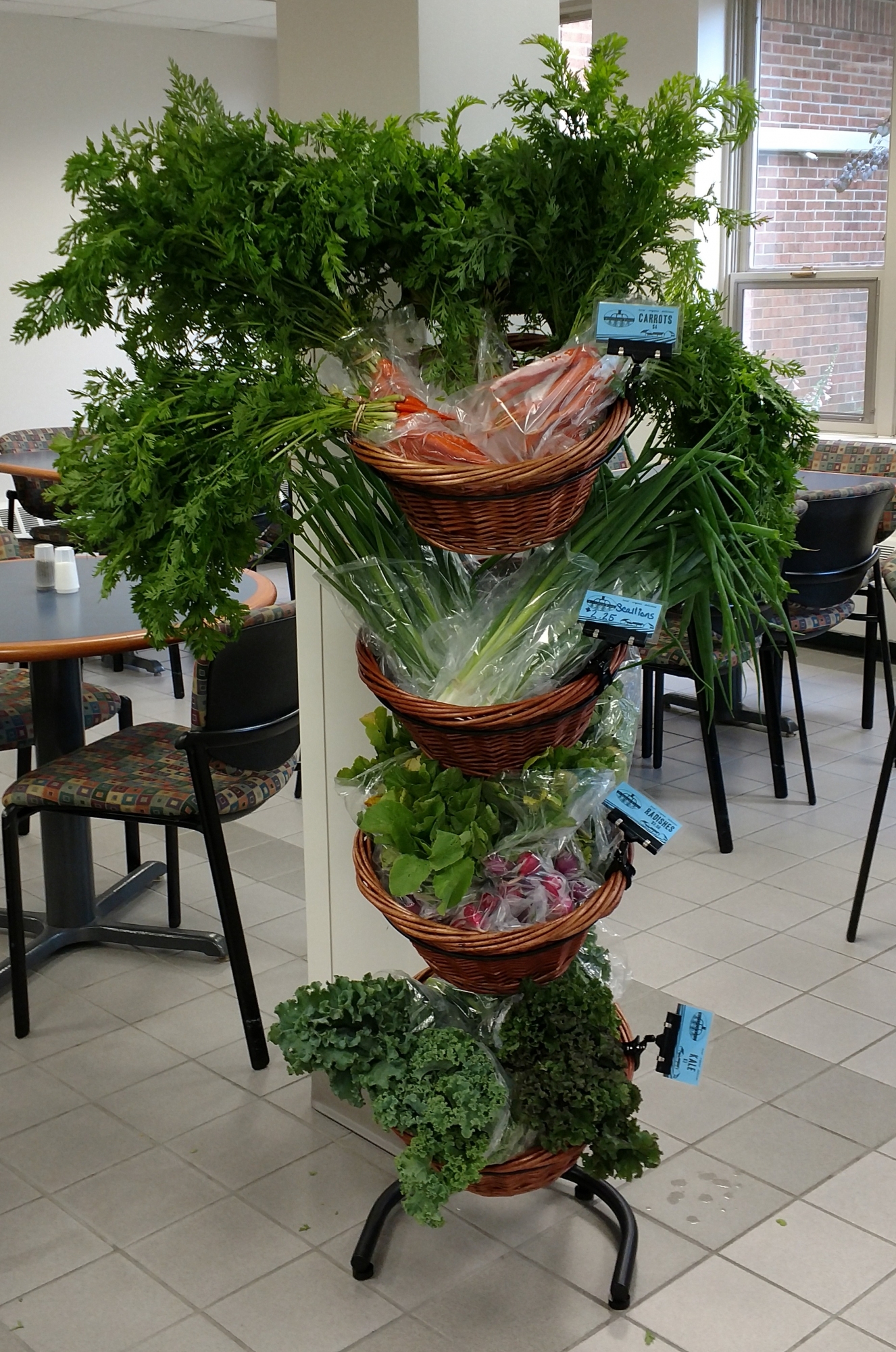 Hospitals are trusted by communities to heal people, but these institutions too often overlook one critical area—nutrition. Across the United States, hospitals typically serve foods rich in sugar, sodium and highly processed meats even though patients would benefit more from nutritious, fresh and wholesome meals. Insisting that hospitals should be the gold standard for healthy eating, advocates have coalesced to form the Healthier Hospitals Initiative. Gaylord, Michigan-based Otsego Memorial Hospital is one of more than 1,300 hospitals nationwide that have joined the network and are striving to provide their patients with balanced, nutritious and sustainable meals.
"It's amazing what a few small changes can make," said Otsego Memorial Hospital food service director Cindy Griffith about the cafeteria's transformation this summer. With help from a Building Healthy Communities (BHC) grant, the hospital purchased a salad bar, yogurt bar and a water infuser. Otsego has also partnered with local farmers to add fresh fruit and vegetables to the menus. In addition, desserts, sodas and other sugary items have been removed from the direct line of sight and replaced with fruits, yogurts and juices. Skim and low-fat milk has been placed in front of whole and chocolate milks. Hospital staff have also begun implementing the "Stoplight Program" which labels healthy foods green, less nutritious foods yellow, and harmful foods red.
The Health Department of Northwest Michigan recruited the Groundwork Center, along with two other community partners (including Taste the Local Difference, a social enterprise of Groundwork), to identify and guide 50 local business and institutions that serve food—including schools, hospitals, food pantries, retail locations and elderly living facilities—in making changes to their food delivery system that will make healthy choices more accessible. The BHC program offers mini-grant funding to these sites that will be used to implement evidence-based health promotion strategies.
Kitchen staff at Otsego Memorial Hospital are already seeing the impact of the BHC grant. Sales of high-sugar and high-fat foods have dropped, while sales of fruits and vegetables have increased. Consumption of soda has decreased significantly since the introduction of the water infusers which provide water lightly flavored with fruits or herbs.
"A lot of it comes from making people think more about what they are eating," said Griffith. "People will often go for what is easy over what is best, so we've been trying to make the best foods the easiest to get."
Otsego Memorial Hospital is part of a growing movement toward local, fresh foods as communities recognize how much diets impact lives. The significant steps institutions make to steer their patients to make healthier choices cost very little money. Griffith has witnessed that it doesn't require fancy chefs or expensive appliances to educate people about their best options or to make those options accessible. It takes community support and the will to make a difference.
"Diet is such a big part of people's lives," said Griffith. "It's important to us to provide the healthiest options for the people who need it the most."
Groundwork is teaming up with the Grand Traverse Foodshed Alliance, the Great Lakes Culinary Institute, the Michigan Health Endowment Fund, Munson Healthcare and Rotary Charities of Traverse City to hold a Culinary Medicine conference, Sept. 22-24 in Traverse City, with the goal of encouraging health professionals to "think like a chef, cook like a dietitian, eat like a local farmer." 
Other Building Healthy Communities grant recipient profiles:
Friendship Centers connect seniors in Emmet County to fresh, local food
Building a healthier Leelanau: Leelanau Christian Neighbors receives BHC grant