Groundwork's annual Harvest at the Commons celebration is a community collaboration, and one that wouldn't be possible without key partners who lend their talents, and their love for the northern Michigan community, on this special night. Hats off to a few of those: the cook, Harvest restaurant owner Simon Joseph; the drink mixer, The Little Fleet owner Gary Jonas, and the music man, Oneupweb owner Fernando Meza, whose company Oneupweb is sponsoring the stage and the night's music.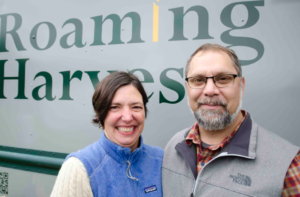 Simon Joseph's crew will launch the meal with a fresh, locally sourced field green salad, including heirloom tomatoes and onions, and topped with a Passion Fruit Mango vinaigrette, that we should all sop up with sourdough boule as we break bread with one another as we eat this family-style meal. The main course this year is Jamaican jerk chicken with curried apple chutney, coconut cilantro rice and charred cauliflower, in concert with the night's Caribbean theme — highlighted by Cuban salsa music with Grupo Ayé at 8 p.m.
"Since we started (Roaming Harvest) as a food truck, we've always been community-oriented," says Joseph. "Groundwork's Harvest dinner is a great way to showcase how the community comes together around food, but also for a great cause and to celebrate Traverse City and all the reasons we choose to work and live here."
Dessert will be Caramel and Apple Pear Shortbread Tart by Fred Laughlin and students from the Great Lakes Culinary Institute at Northwestern Michigan College who "learn by doing" together as a team inside the kitchen at the Culinary Institute.
Gary Jonas and his merry mixers at The Little Fleet have customized two cocktails for the event using local ingredients: an apple cider autumn sangria using white wine from Chateau Chantal, apples, pears, plums, blackberries, melons, and other available fruits from the farmers market; and a fall daiquiri. Little Fleet has been barrel aging rum from Mammoth Distilling for several months and will combine that will a fall-spiced demerara syrup.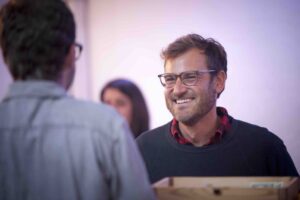 "We are so proud to be a part of this community and helping make our community a place that is strong and proud," says Jonas. "Groundwork's mission to create resilient communities aligns with the way we strive to operate our business in town. We see The Little Fleet as a place to gather the community and raise awareness for causes important to us and this city we all love.  Groundwork's Harvest party is one of the most important events of the year. We not only get to support Groundwork, but we get the chance to be in the same room with many of the people who are making a difference in Traverse City. You can feel the energy in the room."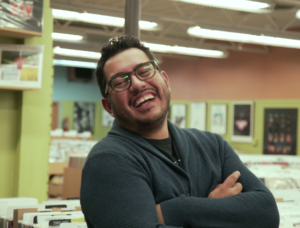 Fernando Meza, who owns the digital marketing agency Oneupweb, has music pulsing like blood through his veins. The Los Angeles native, who cut his teeth in the Manhattan advertising world, is a frequent face at RPM Records, Traverse City's store for records and vinyl. Meza will announce the raffle winners at Harvest at the Commons and introduce Grupo Ayé at 8 p.m. Oneupweb is also sponsoring the stage and music this year.
His presence is a testament to the knowledge-based new economy that's growing here in the Grand Traverse region.
"There's currently a resurgence of people coming from all areas of the country and the world to promote a more active economic scene in Traverse City," says Meza. "It's very exciting to be a part of. Traverse City is creating a model that can be exported to other communities that are struggling to become more diverse, more appealing and attract more talent. There's no other place that I'd rather be growing roots."