Above: Cory Connolly, founder of the Michigan Clean Energy Leaders project.
The application deadline for the 2020 Michigan Clean Energy Leaders project is fast approaching—March 8! We check in with founder Cory Connolly to learn more about the vision and purpose behind this program that's designed to create a powerful network of young leaders to build clean energy momentum in the Mitten. Please share with a young Michigan energy leader who would benefit!
Give us a flyover of the MCEL, starting with the origin story and a bit of the evolution.
So, I started the Michigan Clean Energy Leaders project in 2018 with support from E2 (Environmental Entrepreneurs), Natural Resources Defense Council, and 1 Hotels—a sustainable hotel brand. But the origin story dates back to college. I was a part of a group of young people that gathered for an intense weekend to work on a project around the green economy in Michigan. The weekend helped create a long-term community for me in Michigan. That experience paired with a number of leadership programs I've participated in over the years is why I decided to launch the leaders project. Basically, I feel like Michigan has a growing clean energy industry, and we need to build strong relationships among young professionals in the industry to help accelerate that growth. And for me, I'm also motivated because I'm worried about our planet and the people on it.
In 2018, we did our first year, and we recruited 15 diverse, creative, talented, and accomplished clean energy professionals in Michigan. That process attracted more than 50 applicants, from every part of Michigan. The 15 participants came together for two weekend retreats with facilitated programming that included relationship building, peer-to-peer learning, and opportunities for practical collaboration. Since then, I've been able to see all of those participants work together and become good friends—so we decided to do it again this year.
This year we'll do about the same thing, but with a few new twists. We'll still select and convene 15 talented and accomplished young clean energy leaders from across Michigan for two weekend-long retreats, but what will be new is the second retreat will be the 2018 cohort and the 2020 cohort combined. The first retreat will be hosted at Cherry Republic and will overlap with some of the programming for Groundwork Center's Michigan Clean Energy Conference. I'm excited for this year.
What are you hoping to accomplish—why is this next "greatest generation" so important?
Well, I think we need as many people working to deploy clean energy solutions as possible, and we need a deep bench of folks that care about these issues and can get things done. When I moved back to Michigan in 2014, I realized that Michigan's clean energy economy is growing, but it lacks a cohesive young professional community to help accelerate that growth for decades to come. Most young professionals in the clean energy industry flock to the coasts where the industry is more developed, while those that remain in Michigan lack the opportunity to connect with peers. And I think that lack of connection with peers is a missed opportunity. Michigan is small enough—and the market new enough—that even a small group of folks committed to the clean energy industry can have a major impact. I think this industry is going to be one of the most influential over the coming years, and Michigan has a chance to really carve out a place in the broader clean energy economy. Building a community of young people committed to that is crucial in my mind.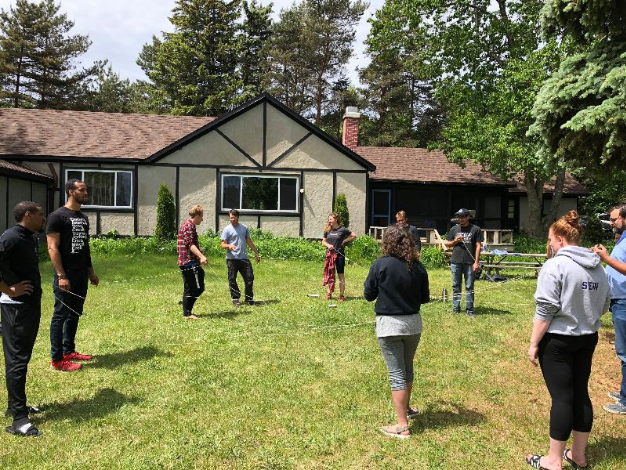 What does a MCEL stint look like—what do leaders do and learn?
I created MCEL with a healthy dose of humility—we're not training anyone. The people who are selected are experts in their own way and are really accomplished. They are practitioners who know what they are doing. The Michigan Clean Energy Leaders Project is an opportunity for people like that to come together, think about the bigger picture, learn from one another, and think about ways to collaborate. There are great training programs out there like the Clean Energy Leadership Institute and programs through various universities—MCEL is not one of those programs. MCEL is about the community and the peer-to-peer learning. So participants spend two weekends together with a variety of participant-driven activities and lots of opportunities to learn from one another. In some ways it's closer to summer camp for energy nerds than it is to a training program.
Talk about the importance of diversity in the cohort.
So, I fundamentally believe that we need to make sure that our economy broadly—and the clean energy economy specifically—works for everyone. Just as much as I believe that, I also believe that it's practical. Any real movement is made up of people from all backgrounds that share a common goal—diversity is a way to demonstrate the transcendent nature of that idea or goal. I really think that the clean energy economy can and should be inclusive of everyone—and that's whether we're talking race, industry segment, gender, politics, geography, income level, or some other factor. The program is about bringing together people from all over the industry and creating a community—so that's how we approach the cohort. It's not about each individual selected, but about the community created as a result of each selection.
MCEL folks will be gaining power as they get older. Where do you see this cohort and program in 2030.
Well, 2030 is 10 years from now. So, thinking back to about 10 years ago to that experience I had in college. My colleagues from those days—10 years later—are now scattered throughout my text messages, emails, and call history. They work in Michigan as nonprofit leaders, government officials, and organizers. I play basketball with one of them weekly and I've been to three of their weddings. So, in 2030, I hope that the folks in the MCEL program are working together here in Michigan and that they are working together to make Michigan a leader in the clean energy economy. It feels like we've got a lot of work to do together for decades to come and I hope that the community built through MCEL can help make that work easier and more impactful.
Energy Services Division at the Michigan Department of Environment, Great Lakes, and Energy is supporting the Michigan Clean Energy Leaders project.