Yesterday Michigan voters turned down Proposal 3 and its call to change the constitution to require 25% renewable energy by 2025. That vote made clear that while most Michiganders like renewable energy, they don't support changing the state Constitution to make it happen.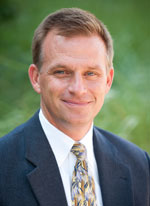 MLUI Executive
Director Hans Voss
During the debate that led up to the vote, officials from the electric-utility industry and other opponents insisted that energy policy should be made in the Legislature – and some of them went out of their way to emphasize that they do indeed support increasing Michigan's production of renewable energy. So, now we'll see if the Legislature and the many voices that weighed in on Prop. 3 can come together with a long-term energy strategy for Michigan.
The Michigan Land Use Institute worked hard to build support for Prop. 3. I thank all of the wonderful people and businesses that came on board as supporters and the many dedicated volunteers who worked so hard to get the word out.
We'll continue to stay involved with what happens next in the Legislature. We'll also keep our focus on working with diverse partners – some of whom were on opposite sides of the Prop. 3 debate – to develop model community-based projects that foster renewables and energy efficiency in our region. And we'll make sure our on-the-ground work helps trigger and inform action in Lansing on this most important issue.
I am as convinced as ever that diversifying Michigan's energy production and expanding renewables will bring many benefits to our environment, our state's economy, and our ability to lead the innovation of the 21st century clean energy economy.
Despite a tough loss on Prop. 3, we remain optimistic here at the Institute. We're ready to work toward solutions, and we'll keep on pushing forward toward our clean energy, pro-environment, pro-economy vision.
Thank you,
Hans Voss