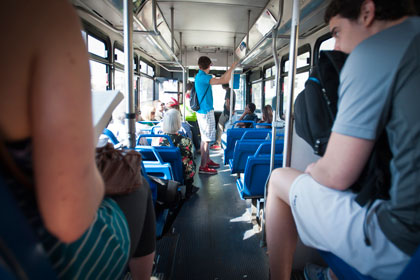 Next month, the Bay Area Transportation Authority (BATA) and Benzie Bus will announce a collaborative effort to launch fixed-route transit service between western Benzie County and Traverse City, with a transfer point in Interlochen. (Photo: Gary Howe/
MyWHaT
Hey transit fans,
Autumn leaves are falling in northern Michigan once again.
This is the time of year when I put my bike in the garage and get out my bus pass for those chilly, morning commutes. There's nothing like finishing my book or chatting with neighbors on the bus, even if it's just a short ride.
There's a new rider in my family, too. Our daughter, Eloise Marie, was born in August and she's taking after her father: She cries every time she has to get in the car. She'll probably be one of those crazy kids who's holding out from purchasing a car till they get older. And that's ok. By the time she's old enough to head out around northern Michigan by herself, there will be a smooth, convenient bus connection waiting to bring her from town to town—as long as dad has anything to say about it.
Northwest Michigan Transit In Action
Frankfort and Traverse City just got a little bit closer together. Next month, the Bay Area Transportation Authority (BATA) and Benzie Bus will announce a collaborative effort to launch fixed-route transit service between western Benzie County and Traverse City, with a transfer point in Interlochen. Not only is this great for Traverse City commuters coming in from Benzie County, it's also perfect for those living in the Interlochen area who want to park their car and jump on the bus on their way into work.
And if you're in Traverse City and headed to the Interlochen Center for the Arts, you can leave your car behind and enjoy a relaxing trip to the show. It's a good way to "avoid the lines," as they say.
What's even better: This new route works well with the Traverse City to Buckley connection that's been in place for a couple years.
These are real, tangible improvements that are helping us move toward the regional transportation system we all said we wanted in the Grand Vision. Thanks BATA, Benzie Bus and Wexford/Cadillac Transit Authority. Let's keep moving forward.
Look for more info on the new route in the next month or so.
State Policy Corner
Senators this week may consider legislation that would allow Metro Detroit to create a regional transit authority to coordinate service better between the suburbs and the city. As I've mentioned in the past, the much-needed authority would control transit spending in southeast Michigan, cut duplicate services, force efficiencies and offer a higher level of transit service—all without raising taxes one cent. The action could help transit agencies around the state.
Upcoming Events
TONIGHT, October 17 at 6:00 PM –Traverse City Corridor Project Open House at the Traverse Area District Library (610 Woodmere Ave, Traverse City, MI)
October 18 at 5:00 PM –Connected Communities: Complete Streets PSA Showing at TC Green Drinks at the Inside Out Gallery
October 25 at 4:00 PM – Grand Vision Transit Subcommittee at the BATA Hall St. Transfer Center (115 Hall St., Traverse City, MI)
October 31 at 9:00 AM – Bay Area Transportation Authority Board Meeting at the BATA Hall St. Transfer Center (115 Hall St., Traverse City, MI)
November 6 at 3:30 PM – Grand Vision Transportation Network Meeting at the Northwest Michigan Council of Governments (600 E. Front Street, Traverse City, MI)
November 13 at 6:00 PM – Forum: Complete Streets for Public Officials at the Hagerty Center (715 East Front Street, Traverse City, MI)
November 14 at 12:00 noon – Benzie Bus Board Meeting at the Benzie Bus Headquarters (14150 U.S. 31, Beulah, MI)
You might be interested in…
Rural transit agencies working together to create a regional authority (Telluride)
Why Young People Are Driving Less (MotorTrend)
In Grand Rapids, downtown property owner will invest in car-share and ride-share, not spend on parking (MLive)
5 Reasons Germans Ride 5 Times More Mass Transit Than Americans (Atlantic)
Poll: Americans Support New Transit Twice as Much as New Roads (NRDC)
Not Just a Fad: Transportation Organizations Are Using Social Media More Than Ever (Eno)
See you on the bus!