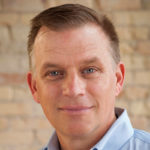 Groundwork was founded in 1995 and for the first 20 years the name of the organization was the Michigan Land Use Institute. It's been a long and meaningful journey for me — and for so many others. I am filled with gratitude for the wonderful people who joined our common cause to support healthy communities and protect the environment. In the early years, our scrappy start-up group was truly lucky to attract the involvement of a man with a great passion for our mission, a natural sense of grace, and a powerful "let's get it done" spirit. That man was Ted Curran, and I am sending you this note of reflection because Ted passed away this month, after a long and wonderful life, and we wanted to pay tribute to his influential legacy and send our best wishes to his family.
TED CURRAN brought high principles, clear vision and
an innate sense of diplomacy to all he did,
and northern Michigan is a better place because of his devoted efforts.
Even if you did not have a chance to know Ted, I encourage you explore the thoughts below because I think we can all gain a little something from the purposeful way Ted lived. I know I did.
Get a sense for the scope of Ted's life by taking a look a look at the nice article by Patti Brandt Burgess published in the Traverse City Record Eagle.
Also remarkable is Ted's obituary.
Ted served as the second Board Chair of MLUI, and the third chair was Bob Sutherland, who you may know as the owner of Cherry Republic. Bob is one of the most active business leaders advancing solutions to the climate crisis. Bob sent me this thought about Ted:
"Ted brought such class and civility to all the issues he worked on in northern Michigan. He was amazingly smooth and sophisticated. I loved spending time with him and fully appreciated his openness to giving me his time. He was a mentor to me."
Keith Schneider was the visionary and courageous founder of MLUI and served as the director until 2000. After leaving the organization, Keith worked for nonprofit organizations addressing climate change and global water issues. But in the end, Keith is, and always will be, a writer (and I've always said he's a thinker and a writer, because he showed me time and time again that you can't be a strong writer unless you take the time to really think through what you are trying to say). So, I thought it was just terrific when I emailed Keith and asked him about Ted, and 30 minutes later (really, it was that fast!) he sent me this fine tribute (he had clearly thought about it!).
"Ted loved our region. He did as much as any person could to secure the natural heritage and improve the quality of life here. Very shortly after we opened the doors of the Michigan Land Use Institute in 1995, Ted walked into our Benzonia office, unannounced, all charm and purposeful discretion.
"Though our staff was tiny and all our work lay ahead, Ted saw promise and put his shoulder to the enterprise. His strengths were development, management, and oversight. He counseled us on strengthening our administrative infrastructure, and our board of directors. He put us in touch with funders. He served as our second chairman during a period of steady growth in the late 1990s. And he and Marcia were generous donors.
"For a time at the organization's very start he'd arrive in Benzonia, fresh off a flight from his work in Washington, D.C., and come by the office to be briefed on our progress. At the conclusion of our talk he'd hand me a $500 check, knowing how much that meant to the institute's stability. Ted moved fast. I barely had time to thank him before he slipped away. At least two other prominent environmental organizations in our region — The Grand Traverse Regional Land Conservancy and FLOW — relied on Ted's guidance and his endearing ways to shape their start-up programs and early successes.
"Ted lived a big life. And he shared what he learned in ways that made so many other lives more productive, more interesting, more vibrant."— Keith Schneider
"Ted lived a big life. And he shared what he learned in ways that made so many other lives more productive, more interesting, more vibrant. One of those lives was mine. The same virtues apply to our beautiful, clean, forested Great Lakes region. In a life that spanned the globe, no region of the world displays more of Ted's steady hand and influence than ours." — Keith Schneider, Correspondent

Thank you Ted Curran! The influence of your life lives on in Groundwork and in so many other people and organizations you touched. I reached out to Liz Kirkwood, the executive director of FLOW, and Greg Reisig, the Co-Chair of Northern Michigan Environmental Council, and they too eagerly shared words of remembrance about Ted.

"Ted was a luminary for FLOW (For Love of Water) and many other regional nonprofits in the Grand Traverse area. He was a big-picture thinker, always lending his unique and distinct ability to bring diverse collaborators together for common good. We will all miss Ted dearly." — Liz Kirkwood, Executive Director, FLOW

Ted approached NMEAC about 12 years ago and urged us to promote clean solar energy in the region. We worked closely together on many small face-to-face meetings to get the discussion moving forward. Later Ted urged us to hold stakeholder meetings at the Park Place. We brought together leaders of the city, chamber, TCAPS, NMC and others and discussed the possibility of a 100% clean energy goal. Ted attended every meeting and helped us lay the groundwork for the city's 2016 100% clean energy goal. Ted's work with NMEAC was crucial and he will never be forgotten. — Greg Reisig, Co-Chair, Northern Michigan Environmental Action Council