ABOVE Russ Soyring retired a year ago from his 35-year career as Traverse City Planner. We walked with Russ around town and asked him to reflect on, among other things, the joy (and resilience value) of a good sidewalk. Photo by Jeff Smith.
Russ Soyring guided the evolution of Traverse City for 35 years as city planner—a time when TC rose to become one of the most acclaimed small towns in the nation. During his tenure, the downtown surged with inventive restaurants, innovative shops and even a gorgeously renovated movie house. The neighborhoods thrived—keeping and improving upon their walkable/bikeable spirit. The beachfront parks expanded (and even jettisoned a defunct coal plant). The Grand Traverse Commons began its amazing restoration story. After he retired at the end of 2020, Russ agreed to join the Groundwork advisory council, because community design has been a centerpiece of Groundwork for 25 years. So on a warm day when summer was on the verge of tipping into autumn, we met Russ near Cass Street and the Chamber of Commerce building and took a walk around TC, asking him to share the ideas that lighted his city planning journey.

Let's start with something current. What's keeping you busy these days?
I'm on the planning commission for the Grand Traverse Commons. I really care about that project—in fact I'm going to a meeting there after this interview. It kind of encapsulates everything I care about in this town. It has mixed use—retail, service, residential—but also mixed income. Plus it's restoring a historical building and reusing a historical resource. They even developed the attic spaces and basement. It's the complete opposite of urban sprawl.

Yes, Ray Minervini proved to be a mighty visionary with that project.
Ray is like a disciple. I did a presentation in Powerpoint once about GT Commons, and I put Ray in the clouds like he was from heaven—he is a developer from heaven. He wanted to give back to this community.

You were city planner for 35 years. Tell us something that floats to the top from the early days.
Ok, well, this will be from before my time here, but in the early 1960s, the downtown development agency authorized a downtown plan that was completed about 1966. I found it one day not long after I started my job here. The idea was to eliminate the river between Front Street and the bay because the river was a nuisance. Redirect the river, fill in the bed and replace it with a paved parking lot. The plan also called for new skins on all the downtown buildings, modernizing and erasing all the history. There was also to be an 8-lane road encircling downtown … it's a good thing we didn't do that plan.

That sounds horrifying. Thank goodness cooler heads prevailed.
I always wanted to know if there were protests back then, or how the public reacted to this idea.
So, here we are at the walkway between Kilwin's and Pangea. It's a small passageway, but feels important to downtown. Tell us about it from a city planner's viewpoint.
It's named the J. Smith Walkway. This used to be just a pass-through with a painted oil can for garbage and a sidewalk. But now it's a place to sit, and people play music, and there's a chess board table. We designed everything in the city planning department and worked with city crews and made a really nice little place, did a bang-up job for not much money. The walkway is intended to be a mid-block access for shopping, and we need that because our blocks are kind of long at 600 feet. We should actually look for opportunities to have more walkways like this. Originally it was planned to cut through the south side of the street too, directly opposite.

Where did your appreciation for human scale towns come from?
It came early to me. I discovered a box at our cabin, and found some of the maps that I drew of cities when I was in grade school. The cities had a lot of parks in them—like 60% of the towns were parks—and I always had waterfront in the towns. I often drew cities during church, on the church bulletin. And I had Matchbox cars, and I kept playing with those till I was like 14 or 15—I was kind of a secret because I was embarrassed my friends would see me doing this.

The other formative thing was my family took an extended trip to Europe when I was 11. We toured 13 countries. My mother was an English teacher, and she would not let us go out of the hotel room for the day until we had read about the city we were going to visit that day. The image of those cities really stayed with me—towns with history and people walking everywhere.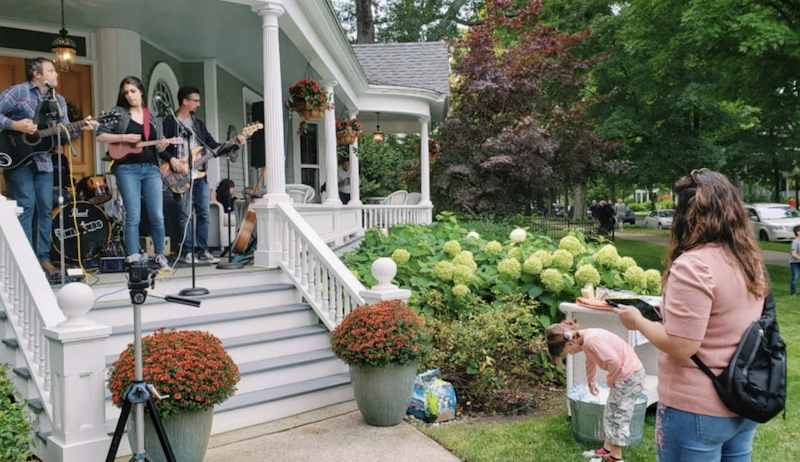 Celebrating porches at a Central Neighborhood Porch Fest.
Photo courtesy 9&10 News.
When you consider your time as city planner, can you think of something that might seem like a small change but that had a bigger impact?
One thing like that is we wanted to make it easier for people to build porches. People had been having to go to the zoning board of appeals and get exceptions for setbacks. So we changed the rule and said you can build a porch, and you only need to be six feet back from the sidewalk. And we got a lot more porches built! At one point we celebrated porches with a progressive porch party—people just went from porch to porch and had snacks and drinks. We haven't done it again, but it was a really great time!

You worked to make it so Traverse City homeowners could add a second living space, like an apartment above a garage, to their property. The townspeople hotly debated this—very controversial. Where does that stand now?
Yes, we wanted people to be able to live where it was convenient to walk to services, shopping, and everything downtown. So we wanted people in our neighborhoods to be able to add what are called accessory dwelling units. It met with a lot of resistance, including in my own neighborhood. But eventually we passed it. We allowed just 10 new units per year. Now we have 65 units and we allow 15 new ones per year. I'd like to do an accessory dwelling unit housing tour. It would be cool for people to see these smaller living spaces. By the way, you can't Air BNB them. You need a minimum of a three-month rental period.

The highest profile traffic change during your tenure happened with the redesign of 8th Street. Give us some perspective on that.
Well, at the first planning commission I attended in 1986 we talked about removing the parking on 8th Street so we could get more traffic flowing—turning it from a two-lane road with parking on both sides into a four-lane road with no parking. I think I said yes, get rid of the parking. I'm embarrassed to say I supported that. Then what happened is businesses like Benny's Bait Shop closed because you could no longer pull up right out front and run up and get your worms. But years later community members like Bob Otwell and others said we have to do something with 8th Street. And you can see what we did—two lanes with lots of pedestrian crossing points and bike paths. The surprising thing is that we actually get more traffic through on 8th Street now with just two lanes than we did with four lanes. Certain speeds are extremely efficient at moving cars and 30 miles per hour is an efficient speed. You actually move more cars through at 30 mph than at 35 mph.

Consider Grandview Parkway, too. If we could reduce the speed to 30, we'd actually get more cars through than we do now at 45 mph, the noise goes down significantly and you reduce the likelihood of fatalities if someone gets hit by a car.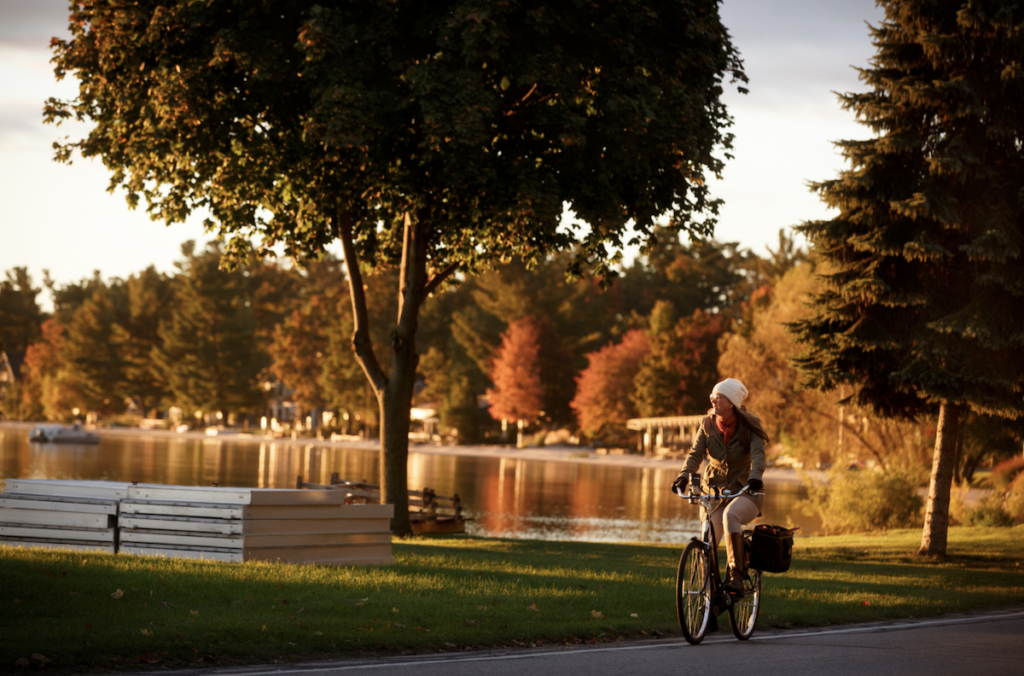 Biking along Grand Traverse Bay on a perfect autumn morning. Photo by Beth Price.
The idea of walkable, bikeable towns is very important to you. Tell us about the evolution of that during your time as city planner.
We are in the process of adding about 14 miles of sidewalk, which will take us up to about 94 total miles of sidewalk. And that is a huge undertaking, several million dollars. And overall, our streets are being better balanced for all users of the street. It's not just auto-centric. We are making streets more pleasant, more inviting to walk along them, bike along them. That is a sign of a huge transition. We were shy about putting in traffic calming techniques because we were afraid something bad might happen. But if we make streets slower and safer, it's less likely someone will be hurt by a fast-moving vehicle.

The more people are out walking and biking, the healthier people will be, and the happier they will be. People will be better fit. They'll be getting exercise instead of relying on the automobile. I think we just feel better when we are out and about. We interact with people, burn some calories, and it's very rewarding when you get somewhere, and we have a bit of a healthier and happier mindset. That is all good for society.

How can community design encourage the walkable-bikeable trend?
We need to build in a way that is entertaining and makes things compact so that the experience is very rich with fresh things of interest, of changes. As you walk, those changes invite you to walk on a little farther. Disney knows this trick very well. You pay $80 to walk around a fake neighborhood. We can build neighborhoods that are very authentic and real, and people will just naturally want to walk. As Bob Otwell says, we need to bring the gym to the doorstep. So when you open your door, you don't grab your car keys, you grab your walking shoes.
Jeff Smith is communications director for Groundwork. [email protected]