Attorney General Bill Schuette was quoted again this week with his strongest language yet about decommissioning Line 5 under the Straits of Mackinac. Disagreeing with an assertion that the pipeline could last "indefinitely", Schuette called for a "comprehensive plan … to drive the timeline for the (pipeline's) closure". Yet in the same statement he suggested the pipeline could be replaced with a tunnel under the Straits, a risky and expensive alternative that ignores the long-term solution of getting oil to Michigan from other existing pipelines and, ultimately, reducing our demand for oil and transitioning our economy to run on cleaner fuel sources. A renewable energy economy was the focus of the recent Michigan Clean Energy Conference & Fair, co-organized by Groundwork and the Great Lakes Renewable Energy Association.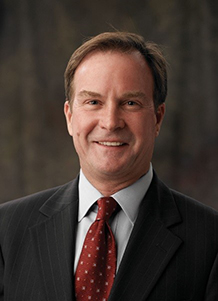 The Michigan attorney general and Michigan governor have unique authority to revoke Enbridge's easement that allows the pipeline to exist on 4.7 miles of the state-regulated bottomlands of Lake Michigan. Schuette's critical statements have been stronger than those of other public officials. Two years ago he said the pipeline's "days are numbered", and that it would not be allowed in the Great Lakes if proposed today.
Schuette's assertion this week shows that growing statewide opposition to Line 5 has clearly reached the mainstream, and encompasses voices from both sides of the political aisle. But as a leading candidate for governor on the Republican ticket, it's possible that Schuette is using tough talk on the aging pipeline to gain political favor while avoiding real action until after next year's election — if ever. It's been three years now since the debate over Line 5 began, and this is the first time a state decision-maker has called for a timeline to shut it down. Citizens must demand that Schuette follow through on that pledge and advance a detailed decommissioning plan before Michigan's gubernatorial election in November 2018.
Schuette's comments on June 29 came the same day the Michigan Pipeline Safety Advisory Board released a report that offered alternatives to the pipeline in the Straits of Mackinac. A second report on pipeline risks, which was also due to be released this week, was terminated because the contractor violated the conflict of interest rules stating that they could not work for Enbridge on other projects while conducting an impartial analysis.
Beginning July 6, the state will accept public comments on the alternative analysis. The Great Lakes Business Network, a group of Michigan business leaders calling to decommission Line 5 in a strategic manner that minimizes economic disruption, and Oil and Water Don't Mix, a coalition of leading environmental organizations campaigning to shut down the pipeline, will deliver strong statements to the state in support of decommissioning the pipeline.
Groundwork helped launch both of these coalitions, and we will work with our allies in the nonprofit and business communities to review the Advisory Board recommendations and prepare comments on the proposed alternatives. We'll post our comments online and offer advice for how you can submit your own comments.
After his bold statements in the media this week, we hope Attorney General Schuette will listen to the voices of Michiganders who love the Great Lakes and move swiftly toward a real solution to this danger. The public comment period in July is the perfect opportunity for the public to send a strong message to state officials that we want strong action, not just strong words. Stay tuned.