Something beautiful, powerful, and profound in local food has happened in northwest Lower Michigan during the past two decades. Shared Abundance is a tribute to that progress and also helps readers see that similar things can happen anywhere in America—most importantly,
in their own hometowns.
Part gorgeous, story-filled coffee-table book and part local food economy strategy manual, Shared Abundance brings 192 pages of insight, instruction, tips, and urgency to making local food economies a foundation of our
national food culture.
An important book for anyone wanting to bring the benefits of a
local food economy to their world.
In 2002, Groundwork produced an innovative report titled "The New Entrepreneurial Agriculture," which mapped out a fresh vision for an agricultural economy in Michigan. The report helped set us and a multitude of regional partners on a mission here in the northwest Lower Peninsula that gave rise to what is today one of America's most respected local food economies. Leveraging the milestone moment of a 20-year anniversary, we decided to produce a book, Shared Abundance, that shares the experiences, essential partnerships, key strategic decisions, and lessons learned, with the purpose of inspiring and propelling local food economies throughout Michigan and the nation.
Shared Abundance is a celebration of the region's innovative local food legacy, the remarkable partners who have been essential to this journey, and the many environmental, economic, and nutritional outcomes that have accrued. But most important, throughout 192 pages, the book will serve as a local food economy road map for people wanting to launch a local food movement in their home region or take a nascent movement, or even a burgeoning movement, further.
Shared Abundance, Lessons in building community around locally grown food
Written by Diane Conners, Groundwork Senior Policy Specialist
Photographed by Beth Price
Order your copy today!
VIDEO SERIES
THE Shared Abundance Project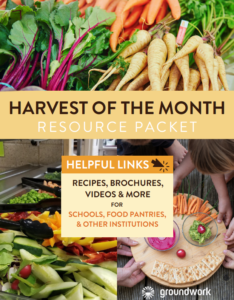 Harvest of the month interactive PDF
Guide to food assistance & Seasonal Michigan Produce