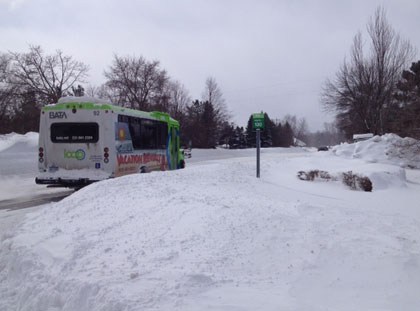 This bus stop across the street from the Garfield Township Hall can be unsafe for riders. (*Caption updated on 3/22/14.)
Last week, while national transportation experts like Kirk Steudle, Roger Millar, and Jay Flint laid out a new plan for how regional transit can boost this region's economy, Traverse City's regional planning board was laughing.
"Anybody ride the bus lately?" Garfield Township Supervisor Chuck Korn asked at the most recent meeting of TC-TALUS, this region's regional transportation planning body.
Korn continued: "…there are people who like to pretend that bikes and buses will solve our transportation problem. They're out there. Trust me. And they're telling everybody that all we need is more bikes and buses and everything will be fine."
He's right about one thing: More bikes and buses won't solve all of our transportation problems. However, they are part of the solution.
In fact, they are part of set of strategies that the TC-TALUS endorsed in 2012. And, combined with widening and fixing the busy roads that too often go ignored, they are part of a set of strategies that could reduce congestion in the Traverse City area.
The comments from the regional board come as a surprise when you consider the increasing public interest in transit.
In a 2012 random-sample survey by Northwestern Michigan College, 75% of respondents indicated they "strongly" or "somewhat" agree that future investments in transportation should include more public transportation.
Last year, we surveyed about 1,600 local employees and found that many workers are interested in having more transportation options like transit, biking, and walking.
In Michigan, the amount of per-person driving miles dropped by 6.7 percent from 2005-2011, according to a U.S. PIRG report. Nationally, bus ridership is at its second highest level since 1957, even with little-to-no service in some areas, according to the U.S. Public Transportation Association.
At the Buses Without Borders event on Feb. 24, nearly 100 people showed up at the Hagerty Center to hear how rural northwest Oregon is using transit as an economic development tool—not a social service—that gives visitors and commuters more reliable options for getting around. For a wonky transit event on a Monday afternoon, an audience of 100 people is a big turnout.
During the event, Michigan Department of Transportation Director Kirk Steudle praised this region's transit leadership. He often stresses that Michigan's investment in transit is crucial.
"What does our future generation want or need as they move around this state? What is it the younger generation wants? Frankly, they want transit systems," he said at a policy forum last year in Grand Rapids.
It isn't lack of interest from the public that's holding transit back in the Grand Traverse area. It's the lack of political will to prioritize transit within our cities and townships.
Transit isn't the solution. No one thing is the solution. But it is part of the solution, and it's a solution that more and more people want.
This area's main transportation planning board should at least have a civil and informed conversation about transit's role in this community, not mockingly dismiss it as a service for "those interesting people."
James Bruckbauer is the Michigan Land Use Institute's transportation policy specialist. Follow him on Twitter at @jimbruckb. Reach him at [email protected].
Updated: The caption in a previous version of this blog post stated that the bus stop in the photo was "outside of" the Garfield Township Hall. The words "outside of" was replaced with "across the street from" on 3/22/14 to clarify the location of the stop.