engagement works!
Thanks to your outreach to the governor and our state legislators, 10 Cents a Meal for Michigan's Kids & Farms has been funded statewide for the 2020-21 school year. Now more than ever, 10 Cents addresses critical needs brought on by the ongoing COVID-19 crisis. 
Once legislators learn about 10 cents, they love it. When the new legislature is seated in January, help them stay informed about how 10 Cents a Meal is having a positive impact in your district! 
Big win! The governor signed the 2021 budget on September 30th, which includes $2 million for 10 Cents a Meal. Grant funding will be available to schools statewide, including sponsors of early childhood centers. Click here to learn more, and check out the grant application guide. 
Your advocacy mattered: Thank you for taking action!!! Nearly 200 organizations, and more than 600 individuals, representing every single county in Michigan signed a letter to legislators and Governor Whitmer seeking funding for 10 Cents a Meal in the 2021 budget. Support came from statewide health, farm, and policy organizations as well as parents, grandparents, farmers, dietitians, and schools from Detroit to the Upper Peninsula. The letter was delivered to legislative leaders and the governor on September 1st. Click here to read the full letter and see who signed. 
"The program provides a huge bang for our buck at a time when every penny counts. Our policymakers have to stretch severely limited resources to meet unprecedented health, educational and economic needs right now, and 10 Cents a Meal serves all three purposes for the low cost of one dime for every meal served to a Michigan child." —Michigan League for Public Policy, makes the case for expansion statewide in the 2021 budget. Read more here.
Share this handout with your legislator. It's a good primer. Watch for new advocacy hand-outs soon!
2020 Budget — Restored Funding:  Together, we sent more than 350 emails to legislative leaders and the governor, to request restored funding for this essential school food program. The legislature recently passed a supplemental budget bill for 2019-2020, which maintained funding levels for eligible grantees in select pilot regions. This funding preserved the infrastructure of this important program and provided critical support to schools in their heroic efforts over the past year to feed Michigan's children in schools, and then in homes when the pandemic hit. 
My goal, first and foremost, was to keep it alive. We got that accomplished. As the old adage says: 'Live to fight another day.' And that is what we are going to do.
Read more of Sen. Schmidt's comments in the Traverse City Record-Eagle.
Make sure legislators are educated about 10 Cents a Meal! And when the next election rolls around—not as far off as it may seem—be ready to educate your candidates as well.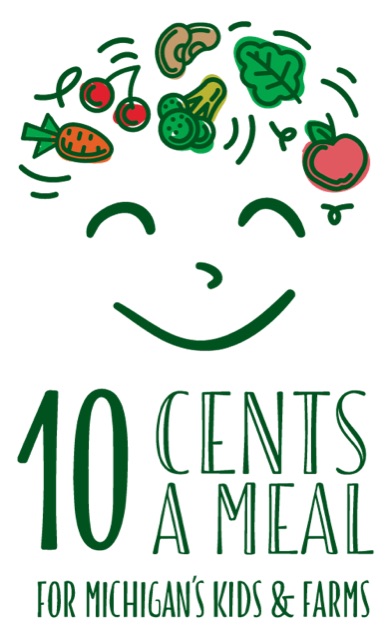 SPARKING HEALTHY CHOICES AND A VIBRANT ECONOMY.
10 Cents a Meal provides schools with match incentive funds to purchase and serve Michigan-grown fruits, vegetables, and dry beans—improving child health and supporting family farms. Funded as a pilot project by the State Legislature since 2016, 10 Cents a Meal transitioned to a statewide program this year. Child nutrition experts at the national level have praised 10 Cents a Meal as a leading, innovative model. Let's make investing in local food for kids in schools a part of Michigan's identity.
Visit the 10 Cents website to learn lots more and find school and community resources, success stories, hand-outs, and legislative reports. A breakdown of the site's navigation can be found here.
Sign up here for our e-newsletter!
Develop Relationships with Policymakers
Get to know policymakers, and let them get to know you. You can educate them about 10 Cents year round. Then, when it's time to advocate, they will already know you.
Check out your legislators' web page to find the times and dates for coffee hours that they hold in your district. Put those coffee hours on your calendar!
Legislators are holding Virtual Town Halls. Follow their social media pages to learn more, and participate!
When you can meet legislators in person, set up appointments through their staff. They are happy to help.
Help your school plan a "legislator to lunch" event. The School Nutrition Association of Michigan has a toolkit here.
Thank your legislators!
Advocate with Policymakers
Take your action beyond educating policymakers. At key times of the year, it's time to make an ask for a specific amount of funding. We'll post new advocacy one-pagers soon. But you also can get your community involved. Here's an example:
Check out our other tips above in Take Action, Educate Policymakers, and Develop Relationships with Policymakers.
Join the schools, farms, parents, educators, businesses, health and economy advocates, and other citizens who endorse Michigan's innovative 10 Cents a Meal for Michigan's Kids & Farms program. Those who have signed up as supporters or provided statements of support include the School Nutrition Association of Michigan, the Michigan Academy of Nutrition and Dietetics, Michigan League for Public Policy, Healthy Kids Healthy Michigan, Michigan Farm Bureau, Michigan Farmers Union, Michigan Vegetable Council, Michigan Food and Farming Systems, Detroit Food Policy Council, Crim Fitness Foundation in Flint, and school districts ranging from those in the Detroit region to the state's Upper Peninsula.
Add your name to the list of people and organizations that embrace investing in local food for kids in schools as a positive part of Michigan's identity.
If you want, you can also be alerted to opportunities for advocacy.
Help us build awareness around the state!
Support Schools and early childhood education centers
For the 10 Cents policy to be successful, schools must be successful.
Help schools seize the opportunity: You can help schools understand how to be strong applicants and grantees. A good start is the Grant Application Guide at the Tools for Schools tab of tencentsmichigan.org.
Support schools in success: Successful grantees engage children so they are excited about trying new foods. Examples include taste tests in the cafeteria or classroom and fun facts about food for the eyes or brain. Food service staff and educators alike would welcome your help. More ideas are at the Build Your Farm to School Program page of Tools for Schools.
WHAT'S HAPPENING NOW?
10 Cents NEWS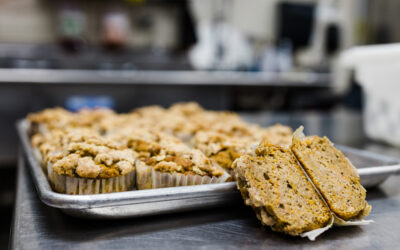 Zoe Fauble, a senior at Whitehall Public Schools, learned to love fresh vegetables after helping her dad and grandmother in their garden. It was the most economical way for them to eat, and it was delicious. But put beans into a muffin? That's not anything she'd ever...