Where will people live?
On my journey to pick up lunch, I pass help-wanted sign after help-wanted sign. Employers can't find workers—more evidence that the housing pinch is being heard and felt from every corner of our community. A week doesn't go by without another local headline about the struggle to find housing and workers in the Traverse area. With so many compounding factors limiting what can be built, rented, or sold, businesses and communities will have to get creative to make a dent in affordability and supply. If not, we risk losing our region's greatest asset—our people.
Businesses in and around Traverse City were struggling to attract workers even before the pandemic craziness that was 2020. Liz Lancashire, general manager of Fustini's, remembers telling an applicant a few years ago to call back once she got housing sorted out. "They were trying to secure the job first, and I had to break it to them that housing was going to be their biggest issue," Liz said.

In the years since, the housing market has only grown fiercer. With cost and competition for local housing at an all-time high, employers are worried and say that it could be even more difficult to attract employees this summer than last.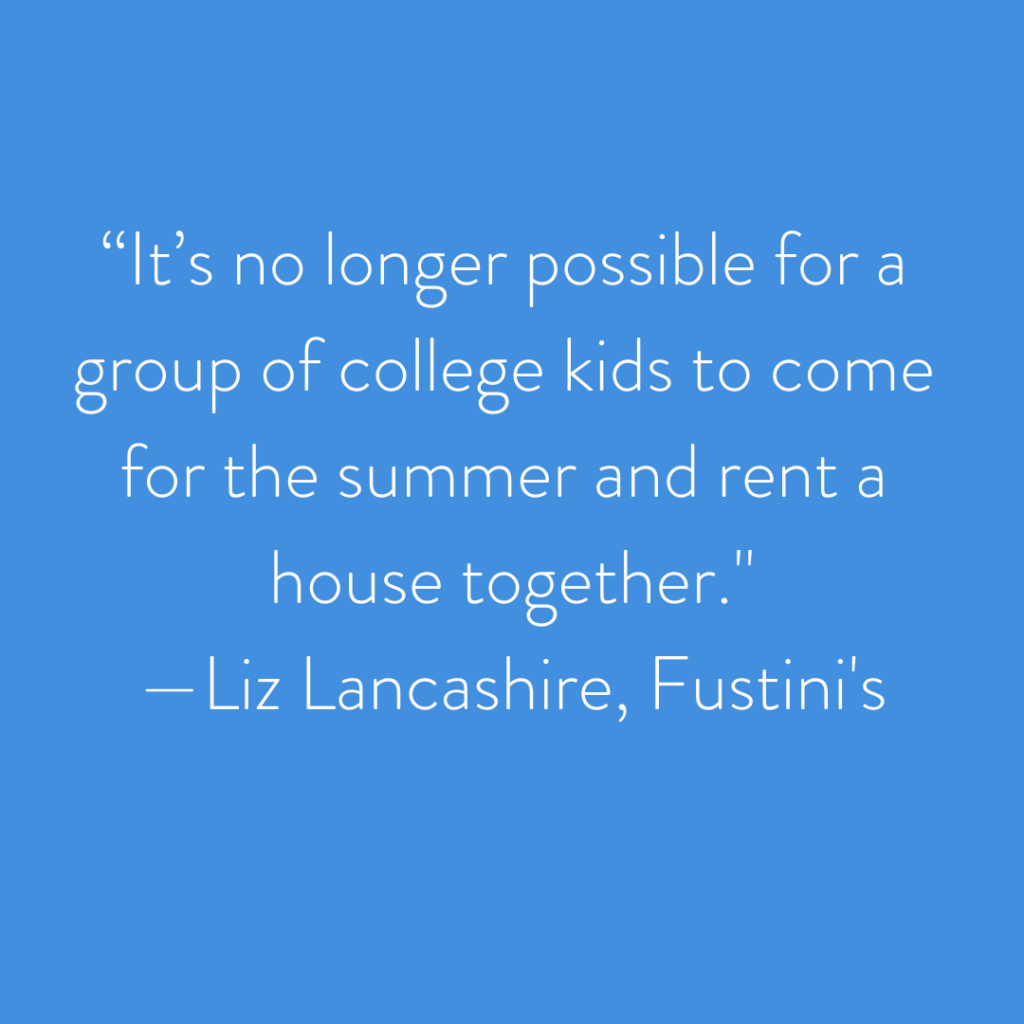 Liz remembers a time when things were different. "It's no longer possible for a group of college kids to come for the summer and rent a house together. Those options don't seem to exist," she says.

If they are short-staffed this summer, many businesses may have to reduce hours of operation to avoid employee burnout. Short staffing might even force businesses to put expansion plans on hold.

A recent Ticker article about the region's aging population explained there is great need for senior care housing and services but due to the lack of regional housing and daycare options, it's difficult to attract the younger workforce that is needed to support that growth.

Limited housing supply also means that a business can lose a valued teammate when that person's living arrangement falls through unexpectedly. That's something that can happen when a landlord decides to change a property to short-term rental or sell the home.

When that happens, people are left with making hard, stressful decisions. "Do I find a place to live an hour from work and commute? Can I even afford the fuel prices?" or "Do I accept a lease I can barely afford and work extra hours at my job(s)?" or finally, "Do I pack my bags and leave the community I enjoy?"

Many people already commute to Traverse City for work from towns 20+ miles out (I'm one of them, I too couldn't find a home closer to the city). Since not everyone has the same access to a vehicle due to legal, physical, or financial barriers, it's important that we support public transportation to outlying villages. That, too, is part of the housing solution.

As a community, we should work to reduce our collective time spent behind the wheel. More housing near downtown means less traffic congestion and less farmland being paved over—protecting watersheds from runoff and the air from car exhaust.

So, how can we expand housing options for our workforce?
---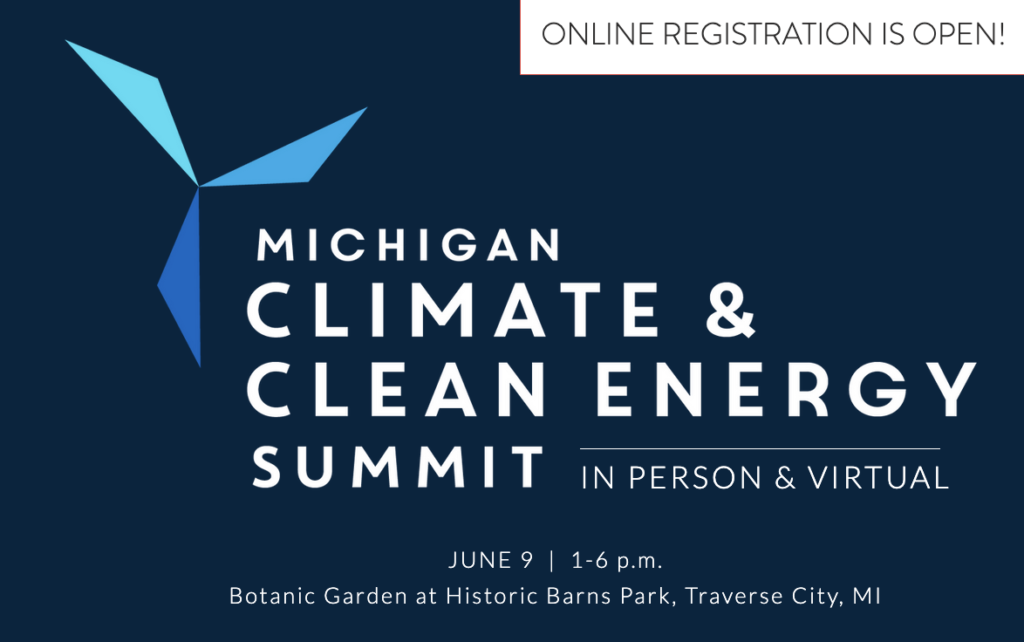 In person tickets are sold out, but Zoom tickets are still available and FREE! Join in on this essential and inspiring conversation!
---
Through a government lens, Traverse City has already done some good work allowing for multiple housing types to flourish based on their zoning code. Some examples include accepting Accessory Dwelling Units above garages or in backyards and removing minimum parking requirements, which help to create more housing at a lower cost within the same square footage.

But barriers still exist. One, in particular, is the moratorium on buildings over 60 feet tall. Set by the 2016 charter amendment, the height restriction became even stricter this past November when a judge ruled that instead of the common practice of measuring a building from the grade to the roof deck, building height now must include minor architectural features and mechanical equipment that may be located on the roof of a building. These features had been exempt in the zoning code. This one change put some Traverse City housing projects on hold.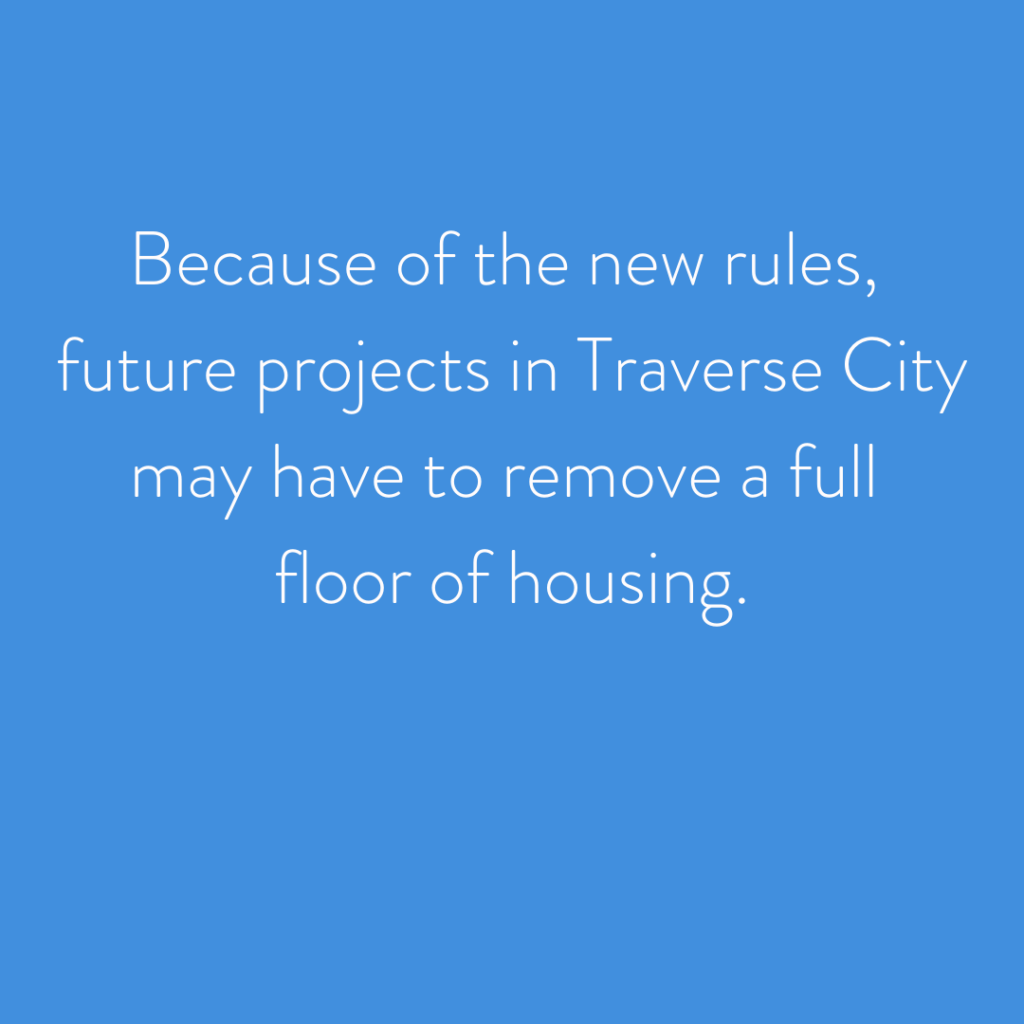 The development group Innovo was gearing up to start construction this spring on an 88-unit apartment building with ground-floor businesses next to BATA's downtown bus station on Hall Street. But due to the judge's ruling on building height, Innovo's project is a few feet too tall, and construction was halted. Now Innovo is seeking to put the building on the November ballot for voter approval.

Because of the new rules, future projects in Traverse City may have to remove a full floor of housing. This not only limits how many people can call downtown Traverse City home and how many businesses can attract staff, but also it can make apartments even more expensive because the cost of the property and the development will have to be spread over fewer people.

As employers are increasingly seeing the effects of housing on their businesses, some companies are getting creative. Cherry Republic, based in Leelanau County, has been involved in workforce housing since around 2018, and they own properties in Glen Arbor Township and Maple City that house employees. They also use a dorm at the Leelanau School, and have employees involved in a work-camper program, in which people live in their RVs at a local campground and work seasonally. In total, Cherry Republic can house around 50 employees, but they say they still have positions that need filling, and the lack of housing options locally is keeping them from filling those spots.

Similarly, Shorts Brewing Company saw the writing on the wall and purchased the 26-unit Bellaire Inn to house area seasonal workers. In a Detroit Free Press article, Short's CEO Scott Newman-Bale noted that the company has missed out on candidates, and employees have moved out of the region because of a lack of attainable housing. If Short's rooms are available after staff needs are met, the company plans to offer remaining units to local businesses looking to house their staff.
For those looking to work in the Benzie or Leelanau area, Sleeping Bear Gateways Council Housing Exchange connects property owners and employers. The online platform can connect employees seeking seasonal workforce housing to hosts that have extra space available.

For longer term housing, Larry Mawby, founder of Leelanau County's Mawby wine company, has started a new venture. He created a nonprofit called Peninsula Housing that will work to create a Community Land Trust in Leelanau. He believes a land trust can make owning or renting affordable for generations. He also recognizes that the properties should be located near town centers so that people can easily access things like work, groceries, and the bus without having to rely on a car to get from place to place.
Housing connects directly to the core Groundwork mission of building resilient communities. We cannot have a resilient community if people from a wide range of incomes can't afford to live here.

We must support our local businesses, support the city in its plans to build housing on underutilized city-owned property, advocate for common-sense zoning, and open our doors to those in need of shelter. Our collective actions have the potential to keep our people and our businesses thriving.

[Photo at top by Paul Kapischka]