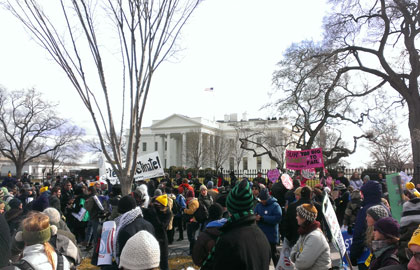 Fifty-six people—including 27 students—boarded a bus to DC to join 40,000+ at the Forward on Climate Rally on Feb. 17.
Fifty-six people. Twenty-seven students. Thirty hours round-trip on a cramped bus. Four hours standing on the National Mall in frigid temps followed by a march to the White House.
That's what democracy looks like. It's not always comfortable, but it sure is inspiring.
On Saturday Feb. 16, I joined 55 other people on a bus in Traverse City headed for Washington D.C. to march in what was to be the largest climate rally ever held in the United States. MLUI helped sponsor the trip with the local citizen's group Sustainable TC and support from the Traverse City nonprofit SEEDS.
We wanted to give northern Michigan citizens a chance to share their voices at the Forward on Climate Rally, which was organized by the Sierra Club, 350.org, and the Hip Hop Caucus. The purpose of the rally was demonstrate to President Obama the citizen support for his recent pledge to take action to reduce the impact of climate change.
We rode through the night, with minimal sleep, waking to the sights of our nation's capital. For some, this was their first glimpse of D.C.; 27 of my fellow passengers were middle school, high school and college students.
SEEDS brought 16 students from their afterschool programs in Kalkaska, Benzie and Manistee counties along with four coordinator chaperones. Another nine students from Glen Lake, Leland and Traverse City schools traveled with their parents or friends. MLUI was able to offer reduced fare scholarships for students as a result of generous support from the community.
Bringing so many kids to the rally about an issue that is so connected to their future was incredibly powerful and inspiring. Many of these kids had never left Michigan, much less been to Washington D.C. Joining 40,000 other like-minded climate activists in the shadow of the Washington Monument—and in freezing temperatures—gave those students a life-changing look democracy in action.
We also were lucky to have videographer Bill Latka along for the trip. Bill captured the entire experience from the perspective of the kids in 10 short YouTube videos—many created from the bus.
The rally was lauded as a big success by organizers; not only did it exceed expectations for numbers, but there was considerable media attention both in Traverse City and nationally.
But for us, the success was more personal. Turning kids on to the democratic process, especially when it involves an issue that will impact them for the rest of their lives, is a win in our book any day.