Blue skies above a DTE wind farm, Courtesy Mark Houston, DTE Energy
With Groundwork's Michigan Clean Energy Conference drawing near (May 21–23), we check in with one of our headliners, Trevor Lauer (pictured), president and chief operating officer of DTE Electric. What can we expect on the renewables energy front from Michigan's largest utility in coming years? Trevor gives us a flyover.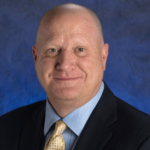 You will be speaking as part of a panel with energy leaders from University of Michigan, Ford, and GM who have all signed up for DTE's voluntary renewable program. How does it work for DTE and its customers? Is this something communities with carbon reduction goals could also join?
Yes, it's exciting to have the opportunity to share the session with University of Michigan, General Motors and Ford, who are three of our biggest customers and who have signed up for big commitments in our renewable program to help them meet their sustainability goals. There are different ways that big and small customers participate in the program, called MIGreenPower, but for large customers, they can subscribe to terms of 5, 10, 15, or 20 years, and based on the term chosen, we will construct large wind farms where the customer would have the sole take on the capacity. We'd love to have communities take part in that program, too, and we're talking with a couple of communities now about getting them involved.
When are those wind farms likely to come online?
We are committed to having those up by the end of 2020. Also important, they'd all be in Michigan. Each of the customers is part of a buying consortium and one of the principles of the consortium is to buy the physical assets in the customer's home state. That time frame is designed to capture the federal tax credits, which are starting to scale down.

DTE recently announced it accelerated its own CO2 reduction goals—reducing CO2 emissions by 80 percent by 2040. What is your roadmap for getting there?
So, a couple of things there, when we submitted the Integrated Resource Plan on March 29, 2019, one of the things we did is we realized we were further ahead on the goals than we had expected. So we were able to pull that goal a decade earlier than we'd originally proposed, which had been 2050.
CONFERENCE HIGHLIGHT Liesl Clark, Director of Michigan Department of Environment, Great Lakes & Energy—and career-long clean energy advocate—will share thoughts on how state policy can help drive Michigan's clean energy future.
A couple of major things will get us there. One, we will pull forward by a year or two the retirement dates for two coal plants—two will retire in 2022 instead of 2023, for example. We'll also expand our energy efficiency programs and our demand response programs. Also, just to add, there is no clearly agreed upon CO2 accounting system in our industry. Some energy companies count reduction only on what they generate and don't count CO2 on what they purchase. But we count CO2 on both what we purchase and what we generate.

The largest thing we're doing to reduce CO2 output is building a natural gas–fueled plant in St. Clair County, which will generate 1,000 megawatts. It will be a 70 percent reduction in CO2, which will be a huge move toward our carbon reduction goal.

Can you color in that energy efficiency piece a bit, give us a sense of your goals there?
The state requires that we reduce our energy use by 1 percent per year, but we have committed to 1.75 percent per year. So, obviously, by not producing those kilowatts, we are not producing the corresponding CO2. So we are in customer houses and businesses working with them one on one to reduce their energy consumption, which also means lower energy costs for them, so they are happy because who doesn't like to save money?
​

CONFERENCE HIGHLIGHT READ Q/A with energy thought-leader Mary Powell, the CEO of Green Mountain Power who has led her company to a clean energy reality that many thought impossible. FastCompany named her company one of the Top 10 energy companies on the planet. Hear her ideas and meet her at the conference!
Any specifics to share on the demand reduction strategy?
When it comes to demand response programs, we are one of the leaders in the nation. An important piece of that is we have a smart thermostat that we can connect with when it's installed in a home. So, when we need to help manage peak demand situations, for example, participating customers will experience a pre-cool and then temperature set at a certain point to reduce load on the grid and reduce rates for customers.

Also, we do what we call interruptible air conditioning, where we can go in and turn off the air conditioning for 20 minutes and then turn it back on, reducing the demand. We off-set with a pre- and post-cool, so the customer is comfortable. And the customer is paid for this, by the way. There is something similar on the business side, where we'd contact a business customer during a peak demand situation and ask them to reduce their energy use for a specified time. The events are called less than a dozen times a year for residential customers, and even less for business. However, the impact of reducing strain on the grid is high.

DTE has committed to some serious renewable targets. How will DTE meet or surpass these goals?
Renewables will be a huge piece of the DTE portfolio moving forward. Today the cost works for customers, who no longer have to choose between a clean environment and a low bill. We will double our renewable fleet of assets by the end of 2024 with $2 billion in investment, focused mostly on universal wind parks.

Our voluntary renewables program will be another key piece. We feel we can have the largest program in the country. Our customers have shown a desire to be a part of MIGreenPower. And some customers will want to go above and beyond, to commit to going 50 percent or 100 percent renewable energy. MIGreenPower allows them to make that choice. They pay a slight premium for that—on average $10 per month extra when going 50 percent renewable—and we have a calculator on our website that shows them how much their bill would increase at various levels and that also shows how much CO2 they'd prevent being released. An important thing about this is everybody can access renewable energy this way. You don't have to have a good site for solar or wind, or even be a homeowner. Renters can access this just as easily.
​

CONFERENCE HIGHLIGHT READ Q/A, With our conference keynote speaker Patti Poppe, CEO of Consumers Energy, (a U.S. Top 20 utility) who has led her company to a coal-free goal by 2040. Hear her discuss how that goal came to be and learn about her own personal transition from displaying an I Love Coal bumper sticker to being a clean energy leader. 5:30pm, State Theatre, Front St., Traverse City FREE to conference attendees and general public!
What role will technology play in helping to meet your carbon reduction goals?
A leading piece of tech is our energy Insight system, which monitors energy use in the home and sends the information to the customer through the DTE Insight app customers download on the smartphone. An Energy Bridge—which wirelessly connects to an AMI meter—sends the energy use information to the app. It graphs energy use so customers can see exactly what happens when they turn on their dryer or do other things that use a lot of energy. The app also gives hints about how to reduce those peaks in energy use. We're also launching new features including smart devices and smart home functions. We developed that system and are selling it to other utilities around the country.

The second big part of the technology story is the continuing advances we see in solar, wind and battery technology. Five years ago if you had asked anybody in the country about the low prices we are seeing today for solar, there's not a person other than a futurist who would have predicted it. So who knows what we will be seeing five years from now.