A conversation with Director and Chef Les Eckert. (Pictured above at Lakeview Hill Farm, Leelanau County.)
We invited Chef Les Eckert, director of the Great Lakes Culinary Institute since June 2019, to give us a sense for how the institute is evolving and how the next steps add momentum to the local food economy and improve the health of our communities. (Hint: great things ahead!)

Back in 2019, Chef Eckert and Paula Martin, along with Munson Healthcare, closed out the Farms, Food and Health, Culinary Medicine conference. The conference was Chef Eckert's first big introduction to Groundwork's culinary medicine program, and now she's working closely with us as we plan to open a teaching kitchen adjacent to our new offices in the Commongrounds Cooperative. Eckert is also involved with the NoBo Market space there.

Paula Martin: Chef, I'd like to start with something big picture to frame what's coming next. Help us see how culinary arts fits into the bigger picture of our culture.

Les Eckert: Sure, well, at GLCI, we are passionate about the culinary arts as it is so connected to having healthy and sustainable food systems. If you don't know what to do with whole, fresh, locally grown food, that food won't get into your body and provide the nutrition you need for a good and healthy life.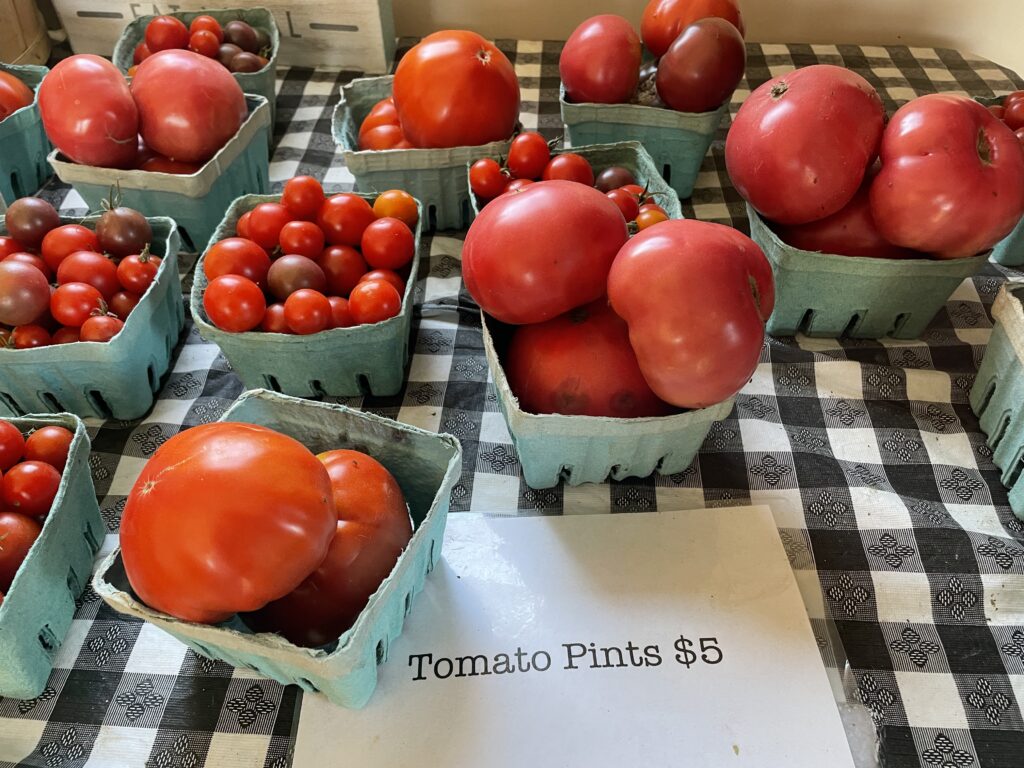 Tomatoes at Z&N Farm, Manistee County.
Martin: Please share a bit of your own cheffing story.
Eckert: I am a Florida native and did my culinary training there. I owned a dessert catering company there and worked in high-end restaurants. Then I moved into teaching, at Tampa, where I taught artisan bread. Eventually I moved to North Carolina to direct the culinary school at The Art Institute of Raleigh-Durham. In 2013 I won the Culinary Educator of the Year award, which is an American Culinary Federation national title award. Then, in June 2019 I accepted the director position here at NMC-GLCI.

Martin: What has surprised you most about our food and culinary culture here in northern Michigan?
Eckert: For me it's been the relationship between the farmer and the chef. Farm to table was not a big thing in my chef circles when I was a young chef in Florida in the early '90s. Moving to Durham, I was exposed to the farms and the farmers, and how we get the food on the table. My move to Durham was when my eyes started opening a lot as a chef regarding sourcing local food and its benefits. I was really able to see where our connections are with farms and getting local food to the table. Here in northwest Lower Michigan, I like how broad our outreach is in all of the counties. I like the fact that we work across multiple counties to solve this food access dilemma that we are seeing in our area. That is what has surprised me the most, we are working together as a very large regional area rather than working in a silo to fix the issue only in our area.

Martin: What can we expect in the next chapters of the culinary institute?
Eckert: We are changing our vision and branding in the community. We want to be viewed as a culinary educational hub for all—those who are entering into the profession, those who are already a part of it, or food enthusiasts. For instance, you can register for one of our masterclasses that run two to five days. These hands-on intensive workshops are for all audiences, professionals or enthusiasts. We will design private education training for companies that need skill enhancement for their teams. We are also working on developing revenue-generating projects beyond our masterclasses—for example, hosting more private catering events and creating a GLCI Marketplace.
From a sustainability standpoint, we currently recycle and compost yet would like to minimize our output so to speak. We'd like to achieve as close to zero waste in the compost bins as possible while teaching students how to do that. To do this we are weaving that environmental stewardship piece into all of our courses. We are also integrating "plant-slant" plate and menu options into all of our kitchen lab, lecture lesson plans, and restaurant events. The plant-slant concept encourages plant-based meal planning while providing room on the plate and menu for use of sustainable locally sourced land and water proteins. Weaving environmental stewardship and plant-slant concepts and practices into all courses enables every student in every program the chance to learn and put to practical use this very important information.

So no matter where you are at, pastry or culinary, we will teach principles of "healthy kitchen, healthy lives."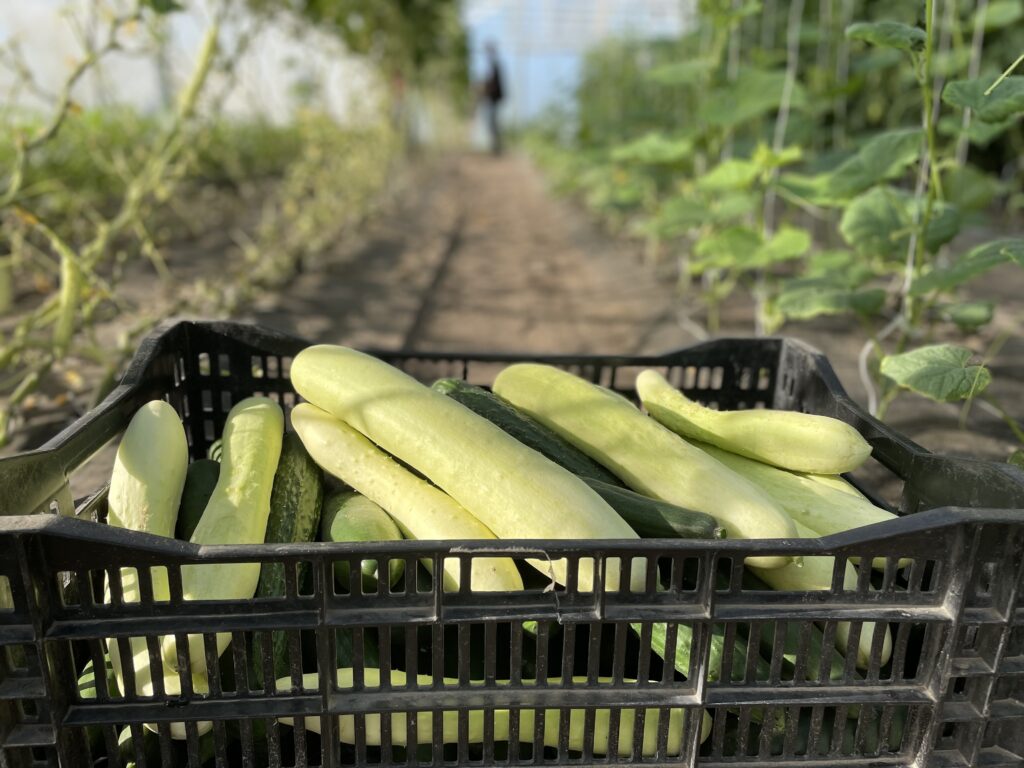 Cucumbers at Loma Farm, Leelanau County.
Give us a little context on the "healthy kitchen, healthy lives" idea.
Eckert: Healthy kitchen, healthy lives, plant forward … that is a huge shift that is currently happening in the food-service industry. What did food used to be before all these chemicals came in? As chefs, whether we are cooking at the restaurant, or preparing food at a senior living facility, it's important for us as professional chefs to understand what it means to be healthy and to have a healthy food system. What does that look like? How are we contributing to it in a healthy way and a sustainable way? What can we do to improve the health of the whole system to then make it healthy and sustainable?

Martin: Globally we are seeing concern about hunger and food security. But when we think about the role of food processors and food manufacturers in that issue, how engaged do chefs get?

Eckert: A lot of these large corporations do have research and development chefs on their teams. They are always looking for ways to improve. We are seeing some of the larger corporations also look at their packaging. Callebaut is a chocolate company we purchase chocolate from. They are producing plant-based chocolate that has all the characteristics of regular dairy chocolate. It has all the eating qualities and working characteristics of dairy-based chocolate products. To make this plant-based chocolate option even better, the company put a lot of thought into their packaging. Not only is it 100% recyclable, the chocolate is packaged and shipped in such a way to minimize package size, reducing total shipment size and delivery square footage needed. So there are companies thinking outside their product. If you are shipping globally you really have to think about packaging. So it's nice to work with companies that are thinking that far out. So, back to our classroom, we talk about stewardship from the micro-local all the way to global, and what organizations are involved in this. Check out worldchefswithoutborders.org.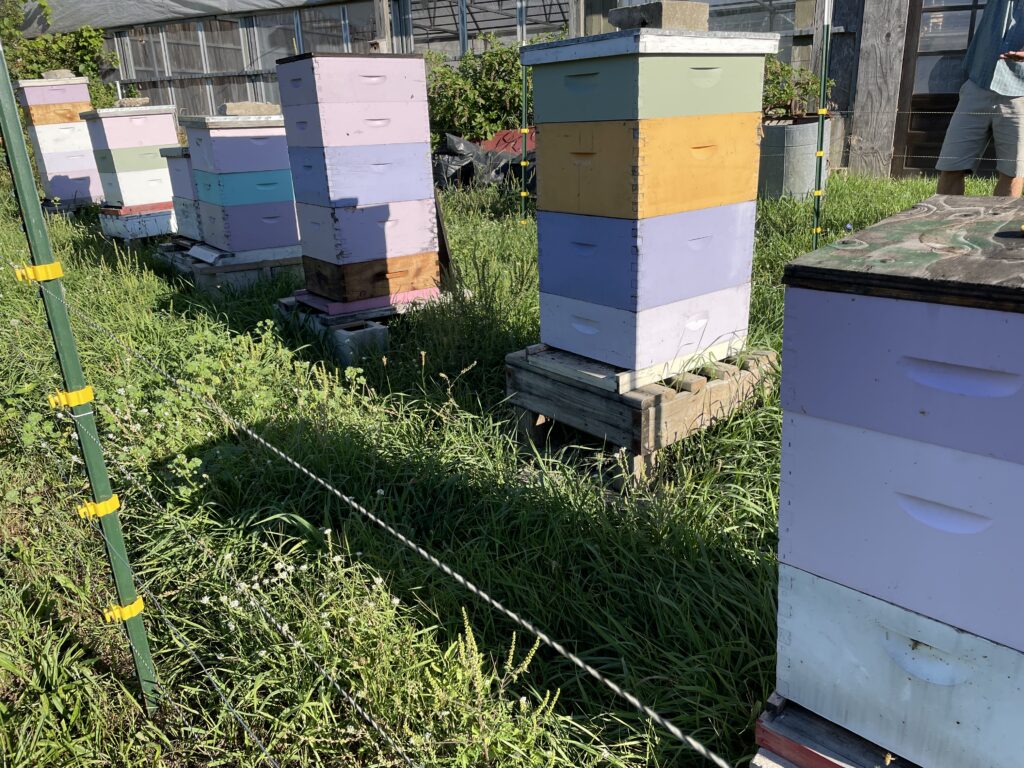 Bee Boxes at Grow Benzie, Benzie County.
Martin: At Groundwork, we are talking with partners about hosting another culinary medicine conference, in 2023. It's a continuation of a collaboration with Great Lakes Culinary Institute and Munson Healthcare that has been happening since 2014. We'd explore how health care practitioners are trained and understand the connections between the health of the food and the health of a patient and the overall health of our community. What do these conversations look like at GLCI?

Eckert: It is a great dialog that needs to continue, because we are seeing more and more health issues. People are starting to want to know what to do to improve their brain health. Or I had someone come to me who heads a Parkinson's disease group—Can we put together something about that? I was asked. What about arthritis, or gout—people want to know what foods are low in uric acid. This culinary medicine piece also needs to include not just health care professionals, but also chefs who want additional training. Similar to the large conferences you see in California. Why can't we be the center of Farms, Food & Health in the eastern part of the country? So many chefs work in health-related facilities, so it is important that they know this.

Having that culinary ed piece is so vital for our community, and it is important that we train that to our students at GLCI. If we don't teach them while they are learning here, then we are already behind. I would love culinary medical education to be a separate program, but for now we are going to integrate it into all of our programs. We need to get it into the culinary programs now. It is growing, and it is growing fast.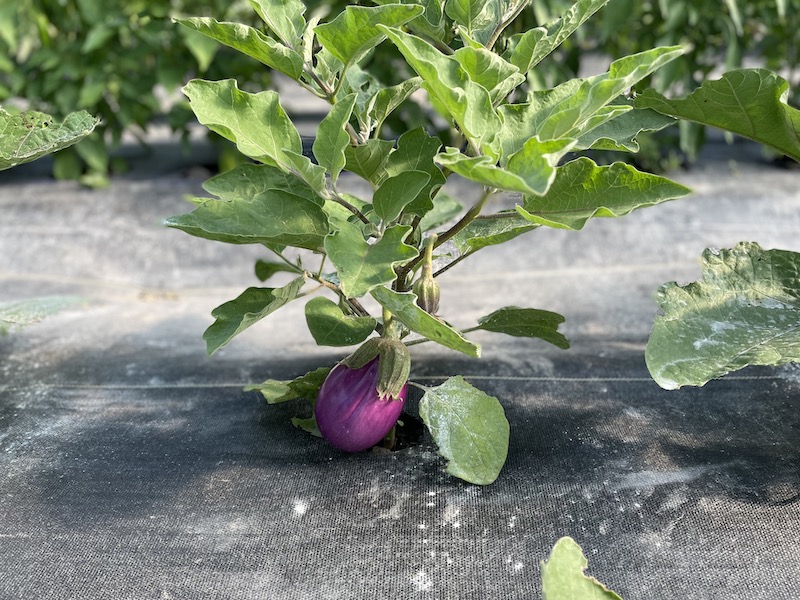 Eggplant at Loma Farm, Leelanau County.
Martin: Share a few thoughts to help people know how they can take part in and even help the culinary institute.
Eckert: Going back to that culinary education hub for all, I want people to know that we are here not just for your dining experience, but also for your education experience. We offer classes through our extended education program and also offer masters classes and intensives that people want to come to to enhance their skill.

So community efforts, one would be just word of mouth, sharing the word of what we do here. We are a Michigan community college, so we do work with donations. It really helps, especially as we build all these new programs. We want to be known as a true leader here, and we want people thinking about us when it comes to food education or enjoying good food here. We are the one program of all NMC that the entire community is so engrossed in, that so many people of the community actually participate in.

Martin: How important is it for us to grow the local food movement?
It's very important that we develop the local food movement. It's a piece of the bigger puzzle. If we can develop our own local food movement, we can go one more county out, then pair up and do one more county after that, and eventually the whole state. And eventually the whole country. What we are doing here with local food is happening in all states in some form. When do we start connecting county to county and state to state? When do we make this a countrywide movement? This is all connected to "healthy kitchens, healthy food, healthy lives." Chefs have been talking about this for years, and now so many more people are on board. Now that we have people's attention, we have to act fast and in a bold way to hold their attention.

Paula Martin, Community Nutrition Specialist