Above, from left: Lauren May, Amelia Werner, Gov. Gretchen Whitmer, Lola Reimers, Reese Owens 
On this International Women's Day, Groundwork is celebrating the remarkable contributions of women and girls around the world in advancing climate solutions. From Greta Thunberg, a teenage climate activist from Sweden, to Vanessa Nakate, a climate activist from Uganda who founded the Rise Up Movement to mobilize young people in Africa to take action on climate change. Women and girls are at the forefront of climate activism, advocating for change and mobilizing communities.
Empowering women and girls is a crucial part of adapting to climate change. Here in Michigan, educating women and girls about climate change solutions, sustainable strategies, and clean energy systems is a powerful way to build a more resilient and sustainable future for our region. Women across Michigan are working to advance renewable energy solutions in the state. Governor Gretchen Whitmer has made addressing climate change a priority for her administration and has taken bold actions to contribute to climate change solutions, including setting a Net Zero by 2050 goal for the state.
Similarly, Liesl Clark, the former Director of the Michigan Department of Environment, Great Lakes, and Energy (EGLE), played a critical role in setting the state's renewable energy targets and implementing policies to support clean energy development. Additionally, Brandy Brown's leadership of the first Michigan Office of Climate and Energy formed in 2019, marked a bold step for the state's commitment to addressing the climate crisis and transitioning to a more sustainable, clean energy future.
Locally, Paige Simard, founder of the Petoskey High School Sustainability club, has made a significant impact by advocating for renewable energy education and building momentum for a solar array project to ultimately power the district with 100% renewable energy. Furthermore, Amelia Werner and the Traverse City Central Students for Environmental Advocacy Club have been instrumental in advancing climate solutions in the region through their successful installation of a solar array on campus with pollinator habitat underneath, demonstrating the power of local action to create a more sustainable future.
Unfortunately, climate change is already threatening Michigan communities with extreme weather events, changing seasonal patterns, and harm to our beloved natural resources. The impacts are felt most strongly by vulnerable populations, including women and girls. Educating them about climate change is not only essential for their own well-being but also for the health and resilience of our communities. ​​
Women have historically been the backbones of communities. They teach us, feed us, care for us, heal us, and bring us into this world. We can make sure women have a voice in the climate movement as well if we ensure all women have access to education about our changing climate and can implement local solutions to adapt to impacts. Education allows women and girls to speak their concerns for the quality of life they want for their families and for themselves. An informed voice also gives them the knowledge to ask local policy makers to implement the changes we need. In my experience, women are some of the best advocates for change, and change is what the planet needs to begin to heal.
Here in northern Lower Michigan, women can help lead in one of the most urgent initiatives of all: speeding the installation of renewable energy infrastructure. Opportunity exists in two of municipalities that have passed commitments to 100 percent renewable energy. The City of Traverse City and the City of Petoskey have committed to use 100 percent renewable energy community-wide by 2040 and 2035, respectively.
To help these communities meet their clean energy goals, we must include youth and student voices in the conversation, especially voices of women and girls, who have historically been left out of Science, Technology, Engineering and Math (STEM) career fields. By educating students about renewable energy sources, Groundwork is helping to build the next generation of climate leaders.
Led by Liv Rollinger, our Climate and Clean Energy Specialist, our team has been developing school lesson plans that focus on solar education and clean energy systems. The team has developed lesson plans that meet energy-related Next Generation Science Standards and center hands-on, STEM-based learning opportunities. Our goal is to help schools integrate this important information into yearly learning experiences. The lessons aim to educate students on the benefits of solar and other renewable energies as well as encourage them to engage in advocacy within their own communities. The Solar on Schools program supports schools in bringing solar arrays to their local communities through campaign support, lesson implementation, and assistance with grant seeking.
These programs will not only encourage girls and women to investigate career opportunities in renewable energy fields, but will hopefully encourage everyone in the communities to engage in the conversation around community renewable energy use. Women are highly influential to each other, their families, friends, and children—especially when they are knowledgeable and passionate about a topic. There's true value in women having the skills necessary to educate their networks about topics like clean energy systems that benefit the planet and everyone living on it.
Educated women are empowered women. Empowered women are more likely to get involved in a multitude of ways in their communities. They may take on leadership roles that could connect them with climate policies and open avenues to make changes. Research indicates women who hold an elected office tend to prioritize resolving tangible issues that directly affect other women, families, and children. Since women and children are disproportionately affected by climate change, women in politics have shown themselves to be more aware of environmental impacts, and integrate solutions into their policy agendas.
This is shown in a study by the World Resources Institute, which found that countries with higher levels of women's political representation were more likely to ratify international environmental treaties and implement climate policies that promote sustainable development.
Educated women also drive economic growth and innovation of climate change solutions. A study by the International Renewable Energy Agency found that increasing the number of women in the renewable energy sector could lead to significant economic benefits, including increased GDP, job creation, and reduced carbon emissions. Increased educational attainment of girls accounts for 50% of the economic growth in OECD countries (the Organisation for Economic Co-operation and Development is an intergovernmental organization with 38 member countries) over the past 50 years. A Harvard Business Review study found that between 2000 to 2010 women had the largest economic impact–with every 10% increase in FLFPR (Female Labor Force Participation Rate) associated with real wage increases of more than 8% for both men and women.
According to the United Nations Development Programme, increasing women's education levels is one of the most effective ways to reduce poverty and build resilience to climate change. Educated women are more likely to have better job opportunities, higher incomes, and greater access to resources, which can help them adapt to the impacts of climate change and reduce their vulnerability to environmental disasters. Global Citizen research shows the impact that education can make. For example, even if a woman attends secondary school for just one year, this education experience can increase a woman's lifetime earnings by up to 20 percent. As for reducing carbon emissions, according to the United Nations Educational, Scientific, and Cultural Organization (UNESCO) data used, educating girls could result in a massive reduction in emissions of 51.48 gigatons by 2050.
Empowering women allows for expansion beyond their traditional roles. Historically, traditional roles leave women and girls in charge of their households, raising families, managing meals, and handling bills. Educated women in charge of households and businesses are more likely to choose healthier, more sustainable options for both. They are more likely to ensure their children are well educated and teach them sustainable practices for their futures.
By educating women and girls in Michigan about climate change solutions, we can help them to become leaders in their communities, advocating for sustainable practices and clean energy systems. This is especially important in rural areas where access to resources and information can be limited. Through education, we can empower women and girls to become change agents, leading the way toward a more sustainable future.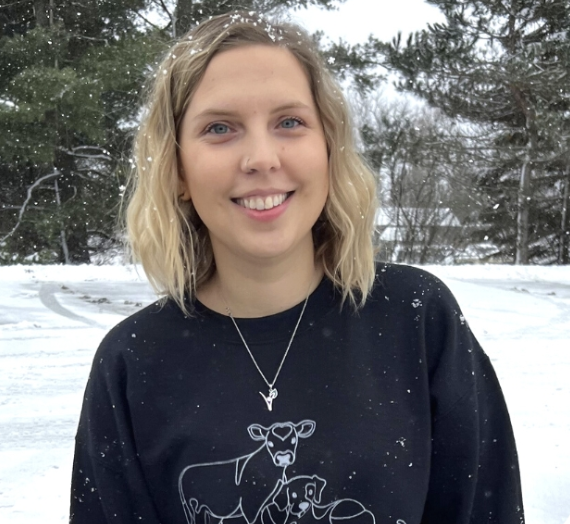 Mary McNabb, Intern in Groundwork's Climate and Environment program and student at North Central Michigan College. [email protected]